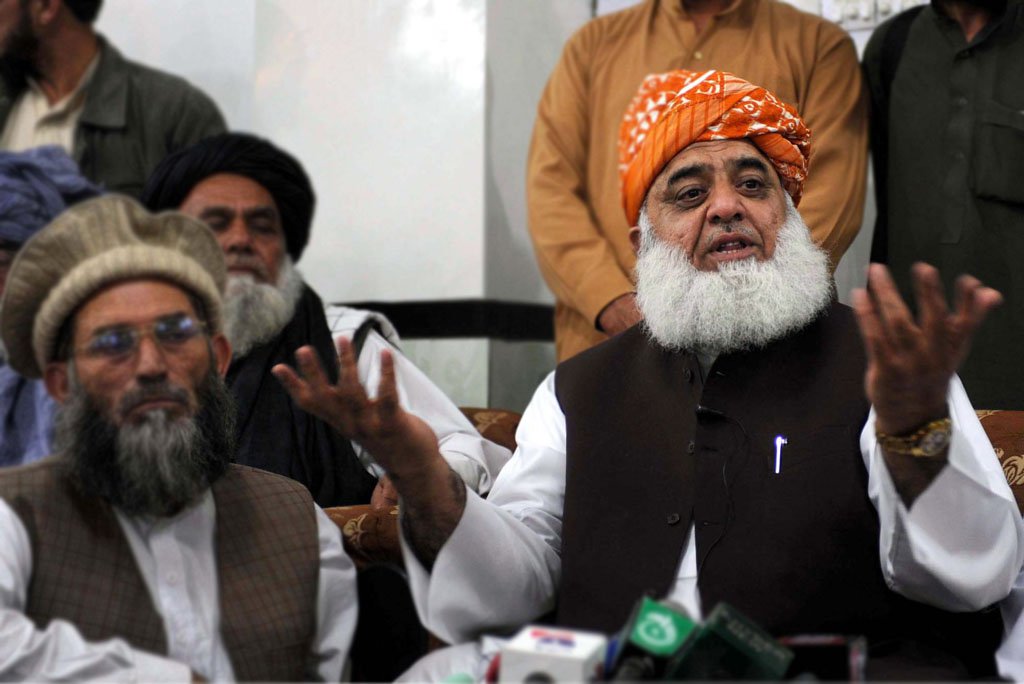 ---
ISLAMABAD: The Jamiat Ulema-i-Islam-Fazl (JUI-F) on Tuesday sought permission from Islamabad's administration to hold its scheduled 'Azadi March' on October 27 at D-Chowk.

JUI-F leader Maulana Abdul Ghafoor Haideri, through his counsel Kamran Murtaza, filed an application to chief commissioner Islamabad for permission. The protest is planned in the federal capital's red zone.

JUI-F Azadi March challenged in IHC

"The JUI-F wants permission to hold the Azadi March on October 27, 2019, at D-Chowk in Islamabad," read the application.

"The JUI-F has the democratic and constitutional right to hold the Azadi March."




Last week, JUI-F Chief Maulana Fazlur Rehman had announced the anti-government Azadi March, which aims to overthrow Pakistan Tehreek-e-Insaf (PTI) rule.

Fazl had also warned the government against creating obstacles in its way of his march.

The JUI-F further requested the city's administration to make adequate security arrangements for the participants of the march, as it claimed "several people from across the country will join the march".

'Sit-in not possible without permission'

Earlier on Wednesday, the Islamabad High Court (IHC), referring to the JUI-F's Azadi March, said no sit-in could be staged in the federal capital without due permission from the authorities.

The court made the remarks while hearing a petition challenging JUI-F's long march for October 27.

Petitioner Hafiz Ahtesham, a resident of Islamabad, had petitioned the court earlier this week that the participants of JUI-F's sit-in should be limited to the allocated place in the capital fixed by the IHC for protests and sit-ins.

"Has the JUI-F taken permission for their protest from the Islamabad administration?" asked the IHC.

"JUI-F's Chief Maulana Fazlur Rehman has announced a long march for October for which he has not sought any permission," said the petitioner and maintained such protests affect the routine life of the residents in Islamabad.

"The IHC had allocated Democracy Park in Islamabad for protests. The Supreme Court had also issued clear instructions while hearing the Faizabad sit-in case," further stated the petitioner.

"At the time of PTI's sit-in, we had bound them to take permission and had told them they cannot stage the sit-in if they do not have permission," said Chief Justice Athar Minallah.

Fazl threatens to shut down entire country if 'Azadi March' obstructed

"It is the job of district magistrate to regulate sit-ins," Justice Minallah added.

He further said the JUI-F have yet to take permission and so have not broken any law."

"It is the job of the local administration in Islamabad to make people obey the law. Nothing has happened yet."

The IHC later adjourned the case hearing for a week.
COMMENTS (1)
Comments are moderated and generally will be posted if they are on-topic and not abusive.
For more information, please see our Comments FAQ