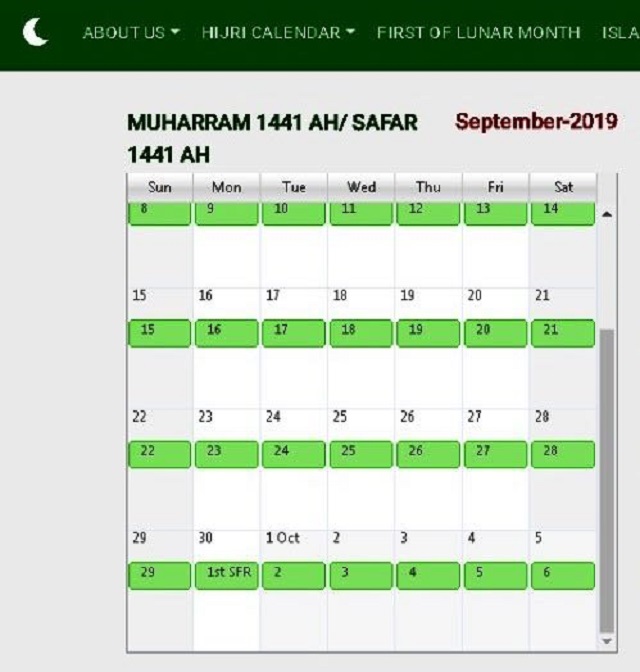 ---
LAHORE: The conflicting date of beginning of the upcoming Hijri month has yet again stirred a debate in the country as for the first time after its launch, the Science and Technology Ministry's lunar calendar has conflicted with the country's top moon-sighting committee's date.

The ministry had predicted beginning of the month of Safar from September 30 (Monday) while according to the Central Ruet-e-Hilal Committee, the new moon was not sighted on Sunday and the Hijri month will commence from October 1 (Tuesday).

The ministry released the date for the commencement of Safar 1441 AH on pakmoonsighting.pk, a website based on the lunar calendar.

However, according to the committee, it had not received any evidence confirming the sighting of the moon from any part of the country.

This is not the first time the ministry and the Central Ruet-e-Hilal Committee have been at odds with one another.

Earlier this year, the committee's chief Mufti Muneebur Rehman took strong exception to Federal Minister for Science and Technology Fawad Chaudhry's statement about the role of religious scholars in the moon-sighting and Pakistan's creation.

Unwise to spend Rs4 million on moon sighting: Fawad

Mufti Muneeb asked Prime Minister Imran Khan to 'rein in' his ministers after Fawad accused clerics of making lunar sighting for Islamic months a controversial affair every year as well as opposing the creation of Pakistan.

"Fawad Chaudhry's statement against the opposition is his personal matter, but he should exercise restraint while commenting on religious scholars and not misquote history," the committee chief had said.