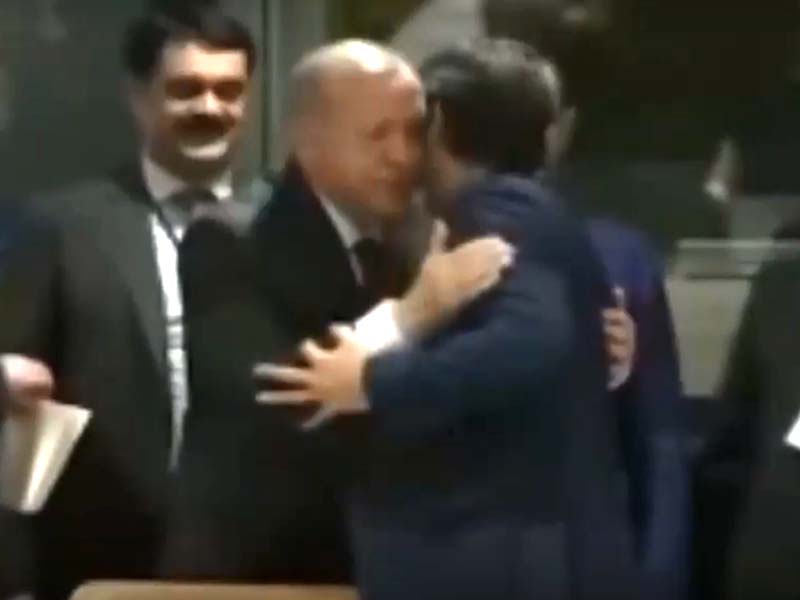 ---
Prime Minister Imran Khan and Turkish President Recep Tayyip Erdogan are known to have developed a close affinity for each other.

A recent video of the pair meeting at the United Nations General Assembly (UNGA) session has gone viral in which Erdogan can be seen kissing PM Imran on his cheeks in what is a customary Arab greeting.

The footage soon began doing the rounds on social media with users heralding the close bond between the leaders of the two Muslim nations.

Ankara has stood by Islamabad on the Kashmir issue and been vocal against New Delhi's move to enforce a curfew and information blockade in Indian Occupied Kashmir (IOK) for over 50 days now.

Meanwhile, the two countries along with Malaysia have decided to rollout their own English television channel to counter Islamophobia the world over.

The decision was announced following a tri-lateral meeting between PM Imran, Erdogan and Malaysian Prime Minister Mahathir Mohamad on the sidelines of the 74th UNGA session being held in New York.

"…we decided our 3 countries would jointly start an English language channel dedicated to confronting the challenges posed by Islamophobia and setting the record straight on our great religion – Islam," PM Imran tweeted.


COMMENTS
Comments are moderated and generally will be posted if they are on-topic and not abusive.
For more information, please see our Comments FAQ