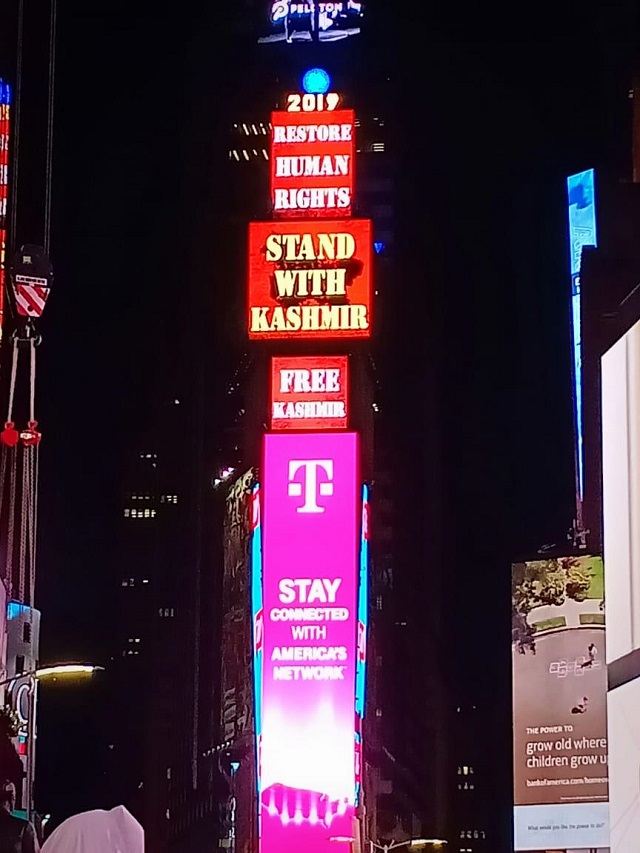 ---
Iconic billboards at Times Square lit up on Wednesday night with 'Free Kashmir', 'Restore Human Rights' signs in a show of solidarity with the people of the disputed valley.

The digital sign boards were put up to mark the 53rd day since India revoked Kashmir's special status and placed it under lockdown at a time when leaders from all over the world are gathered in New York for the 74th session of the United Nations General Assembly.

During his various interactions with world leaders and media, Prime Minister Imran Khan has urged the world community, the United Nations Security Council (UNSC) in particular, to come forward and help defuse heightened tensions between Pakistan and India over the long-standing Kashmir dispute.

"If ever the UNSC needs to move, it's now… there's potential of the unthinkable," he said while addressing a news conference at the UN headquarters in New York on Tuesday.

PM Imran, Rouhani discuss bilateral ties, situation in IOK

The premier said he was alarmed by the standoff and spoke to the world leaders, including the leaders of the US, UK, Germany and France.

"This is the time the world needs to act, because this is the first time after Cuban crisis that the two nuclear powers have come face-to-face," he said.

Prime Minister Narendra Modi, he added, had committed a blunder on August 5 by stripping Jammu and Kashmir of its special status. "Modi has boxed himself into a blind alley," he said.

PM Imran feared that there would be "bloodbath in occupied Kashmir once curfew is lifted".

"It is madness to allow the whole situation to deteriorate further, he said, adding "I fear there is going to be a bloodbath".

He said the international community will be held responsible for impending genocide in occupied Kashmir.

Imran is due to address the UNGA on September 27.
COMMENTS
Comments are moderated and generally will be posted if they are on-topic and not abusive.
For more information, please see our Comments FAQ