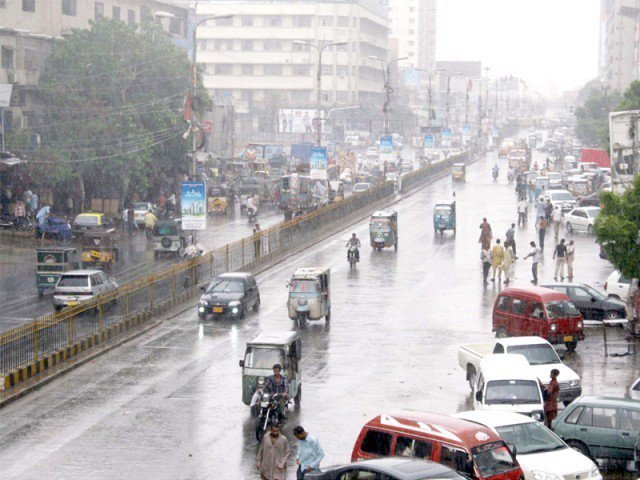 ---
A sigh of relief for Karachiites as parts of the port city on Monday received unexpected rain after a sweltering heatwave that persisted over the last couple of days.

The rain also caused the humidity level to drop and turned the weather mildly pleasant.

The areas that received moderate to heavy downpour include Malir, Sarjani Town, Gulshane-e-Hadeed, Gulshan-e-Iqbal, Saddar, Nazimabad, North Nazimabad, North Karachi, and Saadi Town among others.

The Meteorological department alerted Sindh's fishermen from venturing deep into the sea for next few days, saying that tropical cyclone might cause turbulence in the sea.

Parts of metropolis plunge into darkness
Long after the rain stopped, almost half of the city suffered power outages for hours.

Electricity is yet to be restored in most areas of the city including Sarjani Town, Gulshan-e-Iqbal, Nazimabad, Orangi Town, Landhi among others.

However, minutes before the rain, K-Electric(KE) on its Twitter handle cautioned its consumers to take safety measures during the rain.


#Rain is expected, please be sure to take these safety measures. pic.twitter.com/PJTWhBkB6U

— KE (@KElectricPk) September 23, 2019


Scorching Sunday: Karachi set to swelter for two more days

Earlier, the Pakistan Meteorological Department (PMD) had forecast a heatwave built due to a low-pressure system formed in the south of Karachi and areas of India's Gujarat and Mumbai.

According to Chief Meteorologist Sardar Sarfaraz, the heatwave will last till September 24. The intensity of the heatwave is expected to be moderate because of the variations in the humidity level.

The system has turned into a depression, however, the tropical cyclone will dispel in the sea without causing any destruction in the region.

"Karachi is not under any threat from this system", Sarfaraz added.

Twitterati took to the microblogging website to share the photos and videos of the unexpected rain in the metropolis.


Rain in bahria town Karachi pic.twitter.com/pin7tVbqhm

— Mehmood808 (@Mehmood8081) September 23, 2019
Rain in #Karachi ☔️🌧
Visuals via a friend #MondayMood #beautiful #BeautifulPakistan pic.twitter.com/Wkq7iDN99i

— Danyal Gilani (@DanyalGilani) September 23, 2019
It is Raining, Raining in #Karachi #Rain ⛈️☔ pic.twitter.com/QcXHMT44qT

— 𝑴𝒂𝒔𝒐𝒐𝒅 𝑴𝒊𝒓𝒛𝒂 🏹 (@masood_619_) September 23, 2019
Eik dum se waqt badal diye,zindagi badal de,jazbaat badal diye😍💭#rain in Karachi pic.twitter.com/57GR0Ukv0b

— Hina Khan (@cesthinakhan) September 23, 2019
❤Beautiful Karachi ❤
❤Rain In Karachi ❤
💪Ye Karachi Hai❤#Karachi pic.twitter.com/YvGDI0IpMP

— 🇵🇰Sikandar Baloch🇵🇰 (@abe_shaat_hoja) September 23, 2019
COMMENTS
Comments are moderated and generally will be posted if they are on-topic and not abusive.
For more information, please see our Comments FAQ