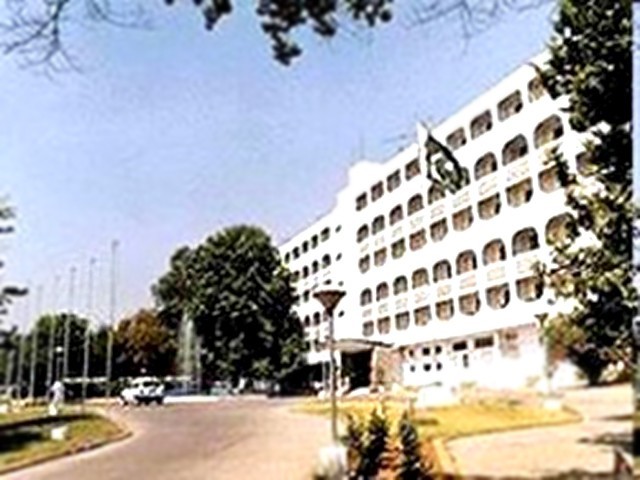 ---
ISLAMABAD: Pakistan has termed Afghanistan's renewed refusal to recognise the Durand Line, international border between Afghanistan and Pakistan, as "irresponsible and unwarranted".

The Afghan foreign ministry issued a statement on Friday that Kabul "does not recognise the Durand Line as an official border between the two countries" in response to the opening of the 24-hour Torkham crossing by Pakistan earlier in the week.

The statement issued by the Foreign Office in response pointed out that the "Pakistan-Afghanistan border is an internationally recognised, official border between the two countries in accordance with all relevant international laws and conventions".

PM Imran inaugurates Torkham border crossing for round-the-clock operations

The statement added that Islamabad believes the round-the-clock opening of the new Torkham crossing was a "significant step forward to facilitate the people and traders of both sides".

Prime Minister Imran Khan had formally inaugurated the border crossing on Wednesday.

Kashmir issue

The Foreign Office (FO) on Friday said Islamabad has initiated a number of processes to keep a sustained focus on the human rights situation in Indian Occupied Kashmir (IOK).

US Congress members term Indian siege of Kashmir 'unacceptable'

The human rights situation in the occupied valley has become a central issue at the United Nations Human Rights Council (UNHRC), said FO Spokesperson Mohammad Faisal.

Pakistan will continue efforts to ensure that the proceedings at the UNHRC have an impact in the occupied valley, he added.

Last month, New Delhi revoked occupied the valley's autonomous status and snapped communications for much of the Muslim-majority region. India's actions drew criticism from the UN human rights chief and rights groups, with Pakistan urging pressure on India.

Millions express true patriotism during Kashmir Hour

In a diplomatic push, PM Imran Khan and Foreign Minister Shah Mehmood Qureshi have held telephonic and in-person conversations with world leaders including US President Donald Trump, Saudi Crown Prince Mohammad bin Salman, and others.

The premier is headed to Washington DC to attend the United National General Assembly (UNGA) where he will highlight the Kashmir issue.

Earlier, FM Qureshi demanded an international investigation into the situation in the IOK while addressing the United Nations Human Rights Council gathering in Geneva. He warned of the risk of "genocide" in the Muslim-majority region.