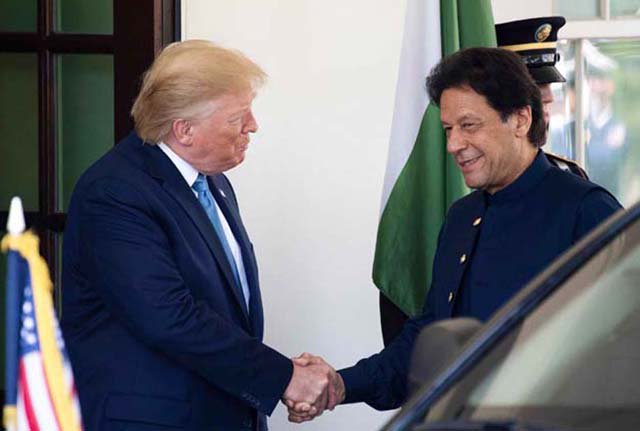 ---
The United States has lauded Prime Minister Imran Khan for his recent statement warning Pakistanis against crossing the Line of Control (LoC) to join the indigenous resistance movement in Indian Occupied Kashmir (IoK).

In a tweet, United States Assistant Secretary of State for South and Central Asia Alice Wells applauded PM Imran's "unambiguous & important statement".

She said Pakistan's "sustained commitment to counter all terrorist groups is critical to regional stability."


Applaud PM @ImranKhanPTI's unambiguous & important statement that militants from Pakistan who would carry out violence in Kashmir are enemies of both Kashmiris & Pakistan.We agree. Pakistan's sustained commitment to counter all terrorist groups is critical to reg. stability. AGW

— State_SCA (@State_SCA) September 19, 2019


The US State Department's comment comes after PM Imran warned against any emotional attempt to cross the LoC from Pakistan, saying any such attempt would, in fact, affect the struggle of the people in IoK.

PM Imran warns against crossing LoC for Kashmir jihad

Any bid to "wage jihad in Kashmir" would be an act of extreme enmity towards the Kashmiris, he said, adding: "Anyone, who thinks that he will cross the border to join the Kashmiris [fighting for their right], is a big enemy of them and Pakistan."

Talking to the reporters after inaugurating the Integrated Transit Trade Management System at Torkham on the Pakistan-Afghanistan border, the PM said Indian authorities were waiting for "any excuse" to crack down on the region.

"They need an excuse … if someone from Pakistan goes to India to fight … it will provide them an excuse for torture and barbarism," he said.

"Don't give India an excuse to cover its human right violations in Kashmir. This can make life more difficult for the Kashmiris, who are already suffering at the hands of 900,000 violent and oppressive Indian troops," said PM Imran, adding that the government would not allow anyone from Pakistan to cross the LoC.