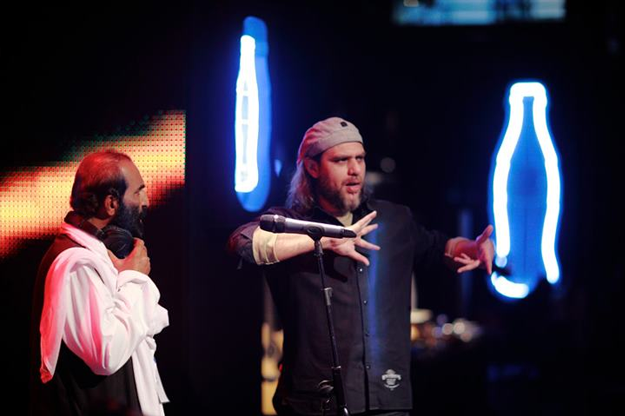 ---
KARACHI: 'He is not a wizard but he is trying his best to put up a good show'. Rohail Hyatt's close circle is slowly warming up to the expectations people have from the maestro's comeback season. Discussion on various social media forums reflects nothing short of anticipation of a Messiah who will help people atone for their sins; a biblical prophecy that is about to manifest itself in the form of a fizzy miracle.

Ironically, it was 'Rohail's sound' that fans had grown tired of from Season 5 onward, despite aficionados finding 6 to be the most mature and nuanced seasons of the show's history.




"Season 5 songs sound like one long song", a budding musician had said back in 2012. They need to follow Coke Studio @MTV's approach and give chance to new producers was another notion that echoed for a long time before Strings opened the floor to more voices.

Their formula clicked with the masses, and the likes of Shuja Haider, Shani Arshad, and Jaffar Zaidi managed to hold the pulse for a while before the audience, and to some extent, the producers (Strings) got exhausted, and bode each other farewell.

Ali Hamza and Zohaib Kazi came with a bang and left with a whimper.

By now the 'bring back Rohail Hyatt' bandwagon had kicked off under the comments section. While some hardcore fans genuinely felt the messiah could take his people back to the promised land, others just wanted change; another reason to love hating what they hated, more than loving what they loved. Once again, memory eclipsed music to shape taste.




Safe to say Rohail Hyatt has the shock factor to play around with. Whatever he releases will seem fresh even if it is more of the same stuff he did back in 2013.
Yet, we cannot overlook the fact that a lot has changed in five years.

Momina Mustehsan is now Pakistan's most googled person, Asim Azhar is touring bigger and better than Junoon used to in their heydays and Asrar has turned out to be the most successful and prolific musician of contemporary Pakistani music scene. Shamoon Ismail is no less consistent either but his music doesn't even hold half the impact or the audience, as Asrar's songs.

Instead of playing any of these cards in his comeback season, Rohail has decided to play it safe. He has stuck to his signature combination of effortless singers and unheard-of folk musicians.


PHOTO: ROHAIL HYATT/FACEBOOK

  Artists Line – up

1)      Sanam Marvi

2)      Fareed Ayaz & Abu Muhammad

3)      Umair Jaswal

4)      Shahab Hussain

5)      Barkat Fakeer and company

6)      Atif Aslam

7)      Hadiqa Kayani

8)      Shamali Afghan

9)      Aima Baig

10)   Har Sakhiyan

11)   Chakar Baloch

12)   Zoe Viccaji

13)   Ali Sethi

14)  Shuja Haider

15)   Rachel Viccaji

16)   Nimra Rafique

17)   Quratulain Baloch

18)   Abrarul Haq

19)  Omran Shafique

20)  Taj Mohammad Buledi

21)  Sadiq Sameer

 House Band

Guitars: Sarmad Ghafoor

Guitars: Zain Ali

Keys: Varqa Faraid

Bass: Kamran Mannu Zafar

Violin: Uncle Jay

Drums: Kami Paul

World percussions: Abdul Aziz, Veeru Shaan and Hassaan Moheyeddin (Moyo)

Eastern percussions: Babar Khanna

Multiple instruments: Tanveer Tafu and Aamir Azhar

Backing vocalists:  Shahab Hussain, Nimra Rafique, Rachel Viccaji and Meher Qadir

There are other guest musicians as well who will feature in different songs. Coke Studio 12 is expected to kick off early in October.

Kangna - Fareed Ayaz & Abu Muhammad
Kinara - Atif Aslam & Riaz A Khan
Have something to add to the story? Share it in the comments below.