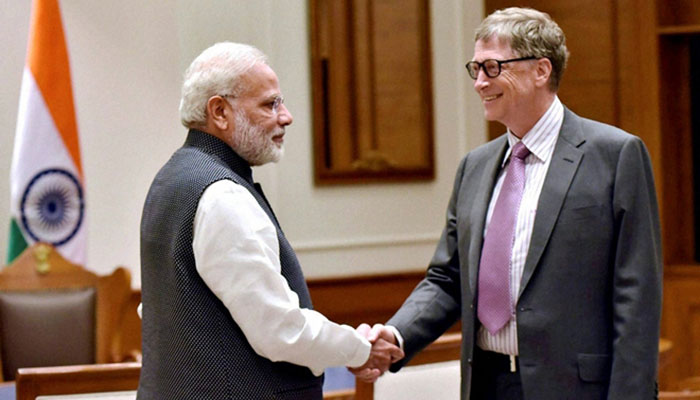 ---
NEW YORK: The Bill and Melinda Gates Foundation has been facing criticism from prominent lawyers, human rights activists and Nobel Prize laureates for its decision to honour Indian Prime Minister Narendra Modi with an award amid the continuing military clampdown in occupied Kashmir (IOK) after New Delhi revoked its special status last month.

The US-based foundation would honour the Indian premier later this month in recognition of his work for "improvement" in the country's sanitation.

Three Nobel Prize laureates, Mairead Maguire, Tawakkol Abdel-Salam Karman, and Shirin Ebadi demanded the Foundation to rescind its award to Modi for blatant basic human rights violations in the occupied valley, attacks on minorities in India and his role in horrific massacre of Gujarat.

Under Modi's leadership, they said, India had descended into dangerous and deadly chaos that has consistently undermined human rights, democracy.

Over the last few days, an increasing number of rights advocates and organisations have called for rescinding the award, citing Modi's dismal human rights record in India and IOK.

"As Modi's India occupies Kashmir, the Gates Foundation has decided to give an award to the far-right Hindu nationalist," peace activist group CodePink said on Twitter. "Shame on them!"Modi is being given the award for his 'Clean India Mission', at the foundation's annual Goalkeepers event in New York City on September 24-25.


Shame on the @gatesfoundation for normalizing the Indian occupation of #Kashmir and rewarding Islamophobic Indian PM Modi! https://t.co/zh8N9iU20d

— CODEPINK (@codepink) September 12, 2019


Prominent New Delhi-based activist Kavita Krishnan told CNN she agreed with calls for the award to be revoked. She said the success of Modi's Swachh Bharat or Clean India mission was "exaggerated".

Kashmir strife a global issue with military, economic consequences: US congressman

"The (Modi) government is implicated in organised violence against minorities, this includes all people of Kashmir who have been held in captivity for more than a month now -- and there's torture happening there," she said, adding that Modi had a "terrible" record on human rights.

Kenneth Roth, executive director of the New York-based Human Rights Watch, tweeted: "Why is the Gates Foundation choosing this moment to honor Indian PM Modi as Muslims in India face a clampdown in Kashmir, loss of citizenship in Assam, and unremedied violence across the country?


More are asking why the @GatesFoundation is choosing now to honor Indian PM Modi despite widespread abuses against Muslims: the intense crackdown in Kashmir, mass denial of citizenship in Assam, unremedied violence throughout the country. https://t.co/KWFJhnEr2p pic.twitter.com/SC8QAnjzYv

— Kenneth Roth (@KenRoth) September 12, 2019


"Meanwhile, a petition signed by South Asian-Americans and their allies in philanthropy, which so far has garnered more than 95,000 signatures, said the award "could not have come at a more awkward time."