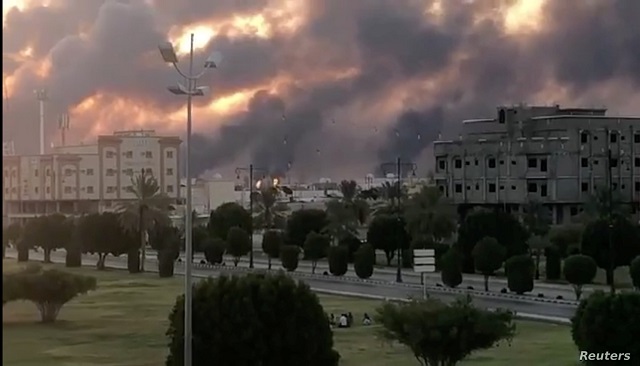 ---
Pakistan has condemned a Houthi rebel drone attack on Saudi oil facilities, and reiterated its support for the Kingdom against any security threat.

"Pakistan strongly condemns the drone attack on Saudi oil processing facility Buqyaq and the Khurais oil field causing fire, material damage and disruption of its operation," a Foreign Office statement said on Saturday.

According to the Saudi interior ministry, fire in the state oil company had been brought under control.


Drone attacks on two Saudi Aramco factories in Abqaiq and Khurais provinces sparked fires that the state oil company brought under control, the Saudi interior ministry spokesman said. More here: https://t.co/kGN6ZrIosg pic.twitter.com/2IiFRVXUWh

— Reuters (@Reuters) September 14, 2019


"Such acts to sabotage and disrupt commercial activities causing fear and terror cannot be condoned. Pakistan hopes that such attacks will not be repeated given the potential damage they can cause to the existing peaceful environment in the region," the communique added.

Pakistan, it added, reiterates its full support and solidarity to KSA against any threat to its security and territorial integrity.

Buqyaq, 60km southwest of Dhahran in Saudi Arabia's Eastern Province, contains the world's largest oil processing plant. Khurais, 190km further southwest, contains the country's second-largest oilfield.

Tensions are running high in the region after attacks in June and July on oil tankers in Gulf waters that Riyadh and Washington blamed on Iran. Tehran denies the accusations.

Houthi fighters in Yemen have also launched attacks over the border, hitting Shaybah oilfield with drones last month and two oil pumping stations in May. Both attacks caused fires but did not disrupt production.

With additional input from agencies