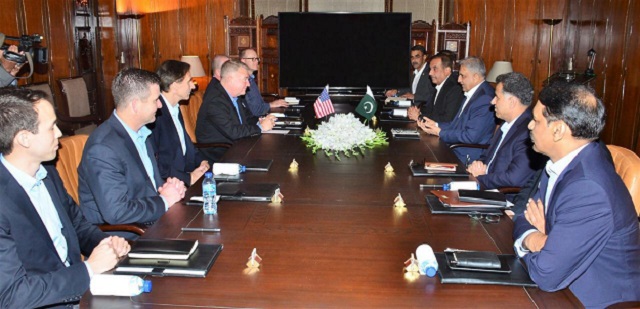 ---
RAWALPINDI: A defence delegation from the United States led by Commander US Central Command (Centcom) General Kenneth F McKenzie Jr called on Chief of Army Staff (COAS) General Qamar Javed Bajwa at the General Headquarters on Monday.

According to a statement issued by the Inter-Services Public Relations (ISPR), "The geo-strategic environment and regional security, including Afghanistan and Kashmir situation, were discussed in the meeting."

The meeting comes in the wake of US President Donald Trump's surprise move to cancel peace talks with the Afghan Taliban, citing last week's attack in Kabul where 12 people, including a US soldier, were killed.

The Taliban have since said that Trump's decision to cancel Afghan peace talks will cost more American lives.

In its official reaction to the sudden US move, the Foreign Office (FO) called on all sides for restraint and reminded them of the commitment to pursue peace.

Trump says he cancelled peace talks with Afghan Taliban

"Pakistan looks for optimised engagement following earliest resumption of talks. We have learnt about the cancellation of US President Donald Trump's meeting with the Taliban and Afghan government representatives in Camp David."

The statement said Pakistan always condemned violence and called on all sides for restraint and commitment to pursue the process.

"Pakistan has been facilitating the peace and reconciliation process in good faith and as a shared responsibility, and has encouraged all sides to remain engaged with sincerity and patience," it said, adding that Pakistan would continue to monitor the developments.

Reuters said on Sunday that Gen McKenzie commended Pakistan for supporting the peace efforts in Afghanistan, in the latest sign of an improvement in long-fraught relations between Washington and Islamabad. "A lot of Pakistanis have been killed by militant attacks inside Pakistan. I think Pakistan sees the benefits of a stable Afghanistan," McKenzie said.
COMMENTS
Comments are moderated and generally will be posted if they are on-topic and not abusive.
For more information, please see our Comments FAQ