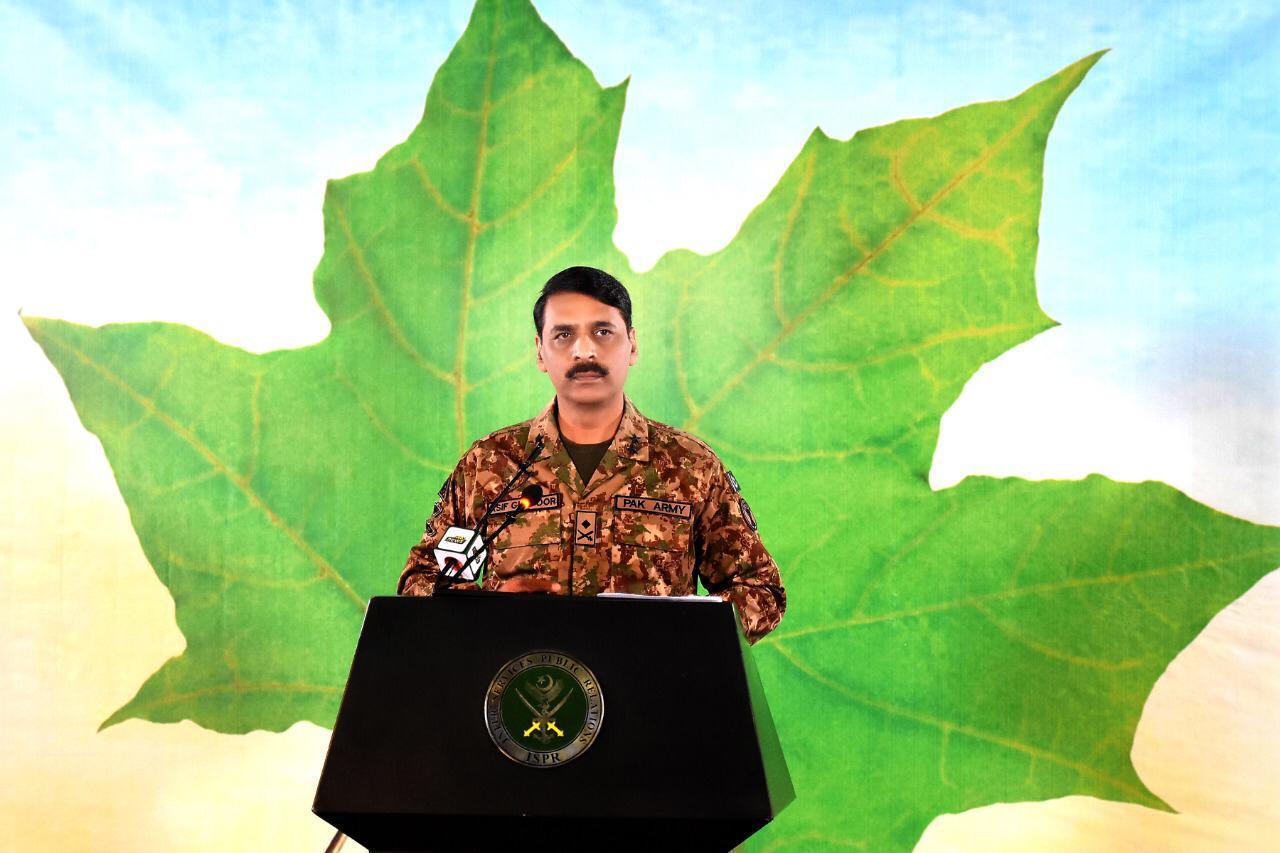 ---
RAWALPINDI: The Pakistan Army on Wednesday ruled out the possibility of reaching any deal on the country's "jugular vein" Kashmir, vowing to go to any lengths for Indian-occupied valley.

"I want to give this message to Kashmiris that we stand by you and will continue to do so," Inter-Services Public Relations (ISPR) Director General Major General Asif Ghafoor said at a news conference in the wake of India's lock down in the occupied valley entering its second month after it stripped the disputed territory of its semi-autonomous status.

"Kashmir is our jugular vein and we will fight for it until our last bullet, soldier and breath," he added.

Ghafoor warned India that if a nation's sovereignty was under threat, war became a compulsion instead of a choice. "Our economy is not too weak to fight a war. To extend help to our Kashmiri brethren, we will not look at our pockets," he added.

To a question, the military spokesperson brushed aside rumours about Pakistan striking a deal on Kashmir during Prime Minister Imran Khan and Chief of Army Staff General Qamar Javed Bajwa's visit to the US.

He said: "How can you even consider that we will reach a deal on Kashmir. Any deal on Kashmir will be on our dead bodies. Our stance on Kashmir has remained unchanged for the last 72 years, why would it change now."

The ISPR DG said the armed forces had established peace in the country and were playing their role for regional peace but a "befitting response" would be given to India if it staged any false-flag operation.

"The armed forces are prepared to deal with any situation and India should know that wars are not just fought with weapons and economy, but skills, tactics and the determination to sacrifice are also required. The armed forces of Pakistan possess those abilities."

He revealed that besides military action, the country's response spectrum included economy, diplomacy, finance, intelligence and other aspects.

To a query, the military spokesperson said the armed forces had already undertaken hectic exercises to respond to any aggression, but their details could not be disclosed.

To another question, the ISPR DG said India's 'no first use' doctrine on nuclear weapons was its unilateral initiative.

"Pakistan has never made such a commitment or issued any statement on it. Rather, it has kept its options open. These are weapons of deterrence."

Maj Gen Ghafoor said if India wanted to change its policy then it was its choice. "But there is a second after first," he added.

The ISPR DG pointed out that the situation in the disputed territory had become a major threat to the region.

"India's actions in Kashmir are sowing the seeds of war," he added.

"We have avoided escalation [of tensions with India]," he said, elaborating that Prime Minister Imran Khan had offered an olive branch to New Delhi soon after coming to power.

India unnerved by effective IOK campaign of Pakistan military's media wing

"In response, they [India] sent two warplanes and received a fitting reply."

The military spokesperson said India had continued to attack Pakistan and cited the case of convicted spy Kulbhushan Jadhav as an example of New Delhi's nefarious designs against Islamabad.

"Nuclear countries have no room for war," he added.

The ISPR DG said Indian Prime Minister Narendra Modi and the Rashtriya Swayamsevak Sangh (RSS) were followers of Hitler's philosophy and the atrocities in occupied Kashmir reflected this mindset.

"India is a country with a huge population, a follower of Hitler is in power [there]. The world community has interests in India," he added, noting that the region was in the midst of a power struggle involving global players.

"Then there is China, an emerging world power. China has issues with India as well but their economic relations with India are stable. Afghanistan has seen nothing but war, martyrdom and loss of lives," he observed.

"We are playing a role in the Afghan reconciliation process. If peace is established in Afghanistan, our troops deployed at the western border will probably be removed," said the army spokesperson while referring to the ongoing Afghan reconciliation process.

To query, the military spokesperson clarified that army chief Gen Qamar did not want an extension. "It was the prime minister's prerogative and he exercised it. After 40 years in service, a person wants to rest and live a normal life, but he [the army chief] has personal rapport with the heads of several nations," he added. "It was the prime minister's decision and he exercised his prerogative."

Speaking on the country's economy, the ISPR DG said indications towards the crisis were given much earlier in the past, but those at the helm of affairs back then had rejected them.

"It [the economic crisis] had reached alarming proportions at that time but the warnings went unheeded that caused its further degradation," he said and added, "It has suffered a cancer which cannot be cured by administering a pill to cure fever. It requires a lengthy and thorough procedure for treatment which is specifically required to cure a lethal disease."

The military spokesperson also refuted rumours about the establishment of relations between Pakistan and Israel. "These [rumours] are spread as part of the fifth-generation warfare."

The press conference by the army spokesperson comes amid heightened tensions between India and Pakistan – which had reached a crescendo after Pakistan shot down Indian jets in February – following New Delhi's unilateral revocation of Article 370. The occupied valley has suffered immeasurably during the last month as a stifling lock down and communication's blackout remains in place.

Pakistan downgraded diplomatic ties with India and suspended all bilateral trade along with trains and buses which ran between the two countries.