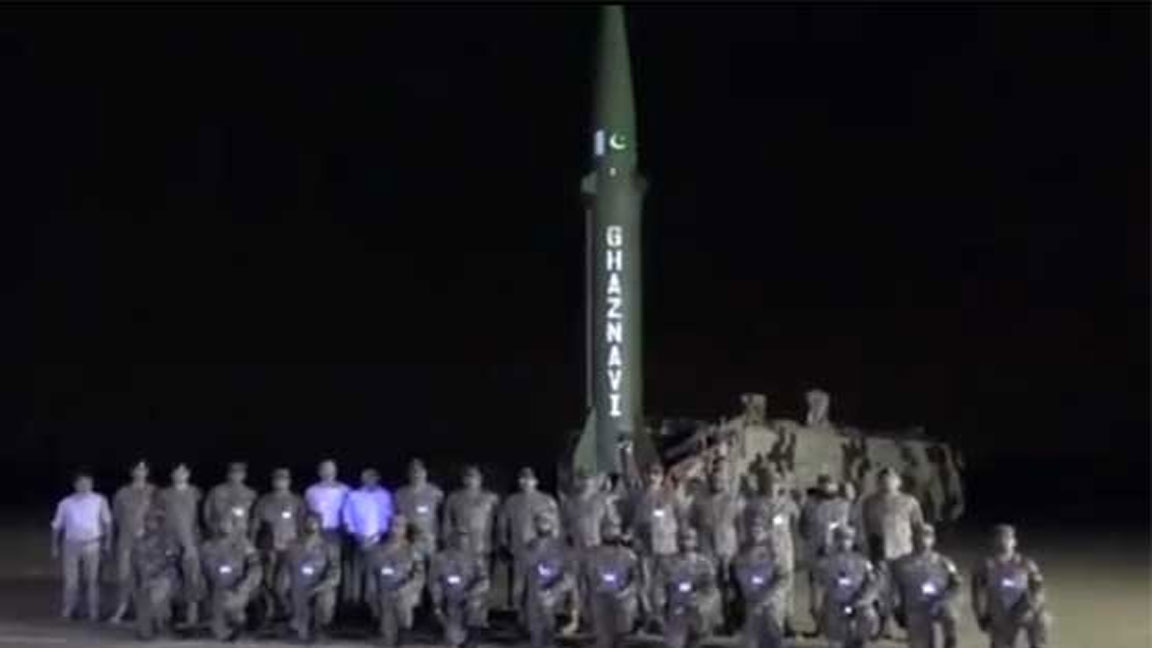 ---
RAWALPINDI: Pakistan has successfully carried out night training launch of surface-to-surface ballistic missile Ghaznavi, said Inter-Services Public Relations (ISPR) Director General Major General Asif Ghafoor on Thursday.

"The missile is capable of delivering multiple types of warheads at a distance of up to 290 kilometres," said a tweet by the ISPR DG.

Chairman Joint Chiefs of Staff Committee General Zubair Mehmood Hayat and services chiefs have congratulated the team for carrying out the successful launch at night time.


Pakistan successfully carried out night training launch of surface to surface ballistic missile Ghaznavi, capable of delivering multiple types of warheads upto 290 KMs. CJCSC & Services Chiefs congrat team. President & PM conveyed appreciation to team & congrats to the nation. pic.twitter.com/hmoUKRPWev

— DG ISPR (@OfficialDGISPR) August 29, 2019


President Arif Alvi and Prime Minister Imran Khan have conveyed appreciation to the team and felicitated the nation on the success.

The training launch comes amid increasing tensions with India as it revoked occupied Kashmir's special status in an illegal and unilateral move on August 5. Pakistan reacted with fury to the Indian decision, cutting transport and trade links and expelling India's ambassador.

In May this year, the Pakistan Army conducted a successful training launch of the Shaheen-II surface-to-surface ballistic missile, a day after India tested its supersonic Brahmos cruise missile.

The military's media wing said that the Shaheen-II missile was capable of carrying both conventional and nuclear warheads up to a range of 1,500 kilometers and was a highly capable missile that met Pakistan's strategic needs towards the maintenance of desired deterrence stability in the region.

Prior to that, in March, the Pakistan Air Force (PAF) successfully test-fired an indigenously developed extended range "smart weapon" from the JF-17 multi-role fighter aircraft. The experiment marked a great milestone for the country as the weapon had been developed, integrated and qualified solely through indigenous efforts of Pakistani scientists and engineers, said a statement issued by the PAF.

In January, Pakistan successfully conducted a training launch of a new surface-to-surface ballistic missile named Nasr.

The ISPR said the missile would enhance the operational efficiency of army strategic forces command besides re-validating the desired technical parameters.

The training exercise involved launching of quad salvo for the desired effects as the missile was a high precision, shoot and scoot weapon system with the ability of in-flight manoeuvrability, said the military's media wing.

This weapon system had augmented full spectrum deterrence posture remaining within the precincts of policy of credible minimum deterrence, against prevailing and evolving threat spectrum more effectively, including enemy's ballistic missile defence and other air defence systems. (With additional input from APP)