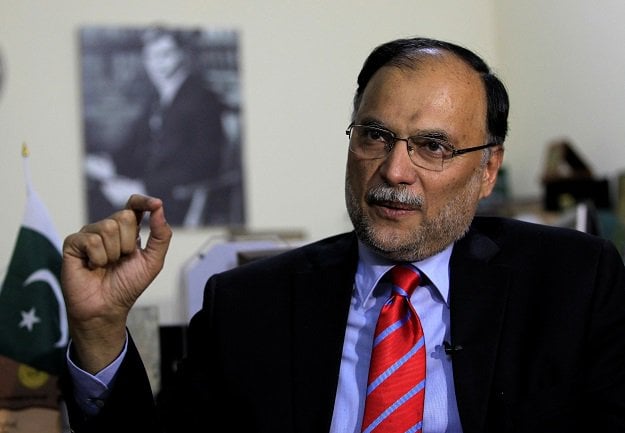 ---
LAHORE: Pakistan Muslim League-Nawaz (PML-N) leader Ahsan Iqbal has demanded that a parliamentary commission should be formed to find out why Prime Minister Imran Khan's government failed to anticipate and counter India's August 5 move to strip Kashmir of its special status.

"Bharatiya Janata Party (BJP) president for Jammu Kashmir announced on May 27 that they plan to abrogate Article 370 and 35A. This information was relayed to the PM Imran by foreign office and intelligence agencies. Then why the government could not do anything on time," he said on Friday.

Ahsan Iqbal, the former interior minister, was addressing media after presiding over a convention of the PML-N lawyers wing at the Central Party Secretariat in Lahore.

"Our rulers traded Kashmir to save their own skin. They knew that India is planning to abrogate Article 370 but they ignored this piece of information. Why our government did not make any anticipatory perpetrations to counters this nefarious move?

"A parliamentary commission needs to be made to probe the reasons of criminal negligence shown by the government on the subject. The record of the PM Office should also be viewed to know what action was taken on receiving this information," he added.

He asked why Imran Khan rooted for Modi's success despite knowing his plans. "Why was Modi given a walk over on Kashmir issue? Why the government has not proposed to call an OIC session in Islamabad?

It seems the matter is being quietly pushed under the rug," he asked.
PML-N General Secretary Ahsan Iqbal also recently addressed workers convention in Borawala on August 22, where he criticised the government for showing laxity in Kashmir issue.

He also addressed a workers convention at Vehari on Friday. On Saturday, party will hold local bodies' convention and women convention at Central Party Secretariat in Lahore – both will be presided over by Iqbal.