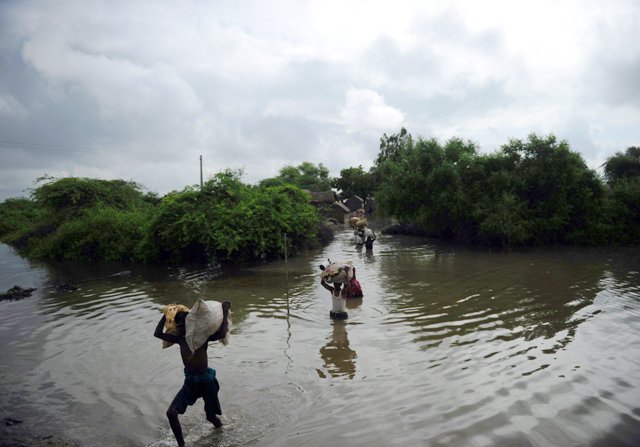 ---
LAHORE: Even as floodwaters rage down the Sutlej and Chenab Rivers, threatening to destroy anything in their path, agriculture officials see the silver lining that it may bring to upcoming harvest.

"In the long run, the fertility of land will improve. Farmers are expected to benefit from it during the harvest season," said Communication Director of Punjab Agriculture Department, Dr. Muhammad Rafiq Akhtar.

To prevent the loss of cattle and farm animals, the provincial administration had already conducted a vaccination campaign in the area.

"Early vaccination saved the animals in the area. We vaccinated them long before the floods," said Punjab Livestock spokesperson Dr. Asif Rafiq.

Similarly, damage to fish farms in the flood-affected areas was limited.  "No loss to fish farms recorded so far," said DG Fisheries, Dr. Sikandar Hayat.

Other animals were said to be safe in the flood-ravaged area, according to Punjab Honorary Game Warden Badar Munir.

"God has equipped animals with senses to anticipate natural disasters." "They move to safe places before natural calamities," said Munir.

While India purposely allowed excess water into Pakistan, it will have a positive impact on the Sutlej River Bank, which has low underground water levels.

"Floodwater will positively impact the Sutlej River Banks and improve underground water levels," said Director Provincial Disaster Management Authority, Tariq Masood Farooq.

In a bid to trigger floods, India released up to 0.2 million cusecs of water into the Sutlej River, without notifying authorities in Pakistan. Experts believe the access water could have been used to help desert areas in the country.

"Wastage of water could have been prevented if we had a better distribution system," said Senior Water Expert, M H Siddiqui.

So far, over 1,500 people have been rescued from affected areas. More than 1,700 people have been evacuated and moved to safe places.

Nine years ago, Pakistan witnessed the worst flooding in its history. The natural disaster claimed 1,985 lives, destroyed 16,8184 homes, and affected 17,553 villages.

According to the disaster management bodies, so far, 1,575 people have been rescued during the relief operation in the area.

The current spell of floods triggered by India has left large swathes of agricultural land ravaged.  Authorities have recorded the destruction of rice, cotton, sugar cane and other crops.  A full report on the damages will be released after floodwaters recede.
COMMENTS (1)
Comments are moderated and generally will be posted if they are on-topic and not abusive.
For more information, please see our Comments FAQ