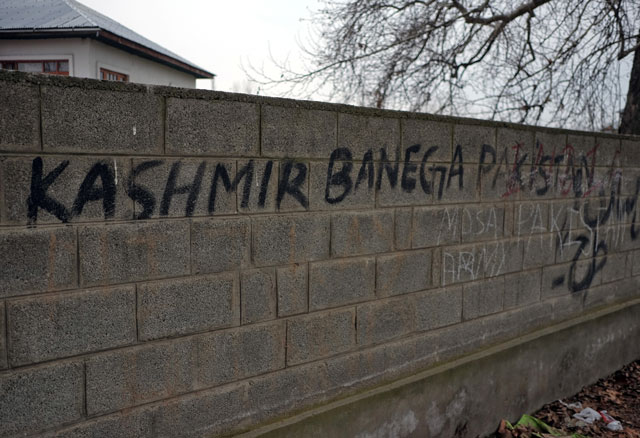 ---
KARACHI: United Nations human rights experts on Thursday called on India to lift the lockdown and communication blockade it had imposed on Occupied Kashmir as a global advocacy group focusing on genocide issued an alert for the disputed region.

In a strongly-worded statement released by the Office of the UN High Commissioner for Human Rights (OHCHR), the experts urged India to end what it termed a form of 'collective punishment' on Kashmiris.

"The shutdown of the internet and telecommunication networks, without justification from the government [of India], are inconsistent with the fundamental norms of necessity and proportionality," the statement quoted the experts as saying. "The blackout is a form of collective punishment of the people of Jammu and Kashmir, without even a pretext of a precipitating offence."

"We remind the Indian authorities that the restrictions imposed by the Indian Government are intrinsically disproportionate, because they preclude considerations of the specific circumstances of each proposed assembly," the experts added.

The OHCHR statement also noted with extreme concern reports of arrests of political figures, journalists, human rights defenders, activists and others, and of use of excessive force against protesters.

"The experts said they were deeply concerned by reports that security forces were conducting night raids on private homes leading to the arrests of young people," the statement read.

"Such detentions could constitute serious human rights violations. The allegations must be thoroughly investigated by the authorities, and, if confirmed, those responsible must be held accountable," it quoted the experts as saying. "We are gravely concerned about allegations that the whereabouts of some of those detained is not known as well as the general heightened risk of enforced disappearances, which may proliferate against the backdrop of mass arrests and restricted access to the internet and other communications networks," the experts added.

Regarding the use of excessive force and live ammunition against protesters, the experts said: "India has the responsibility to use the minimum force necessary when policing protests. This means that the use of deadly force is a measure permissible only as last resort and to protect life."

Meanwhile, global advocacy group Genocide Watch issued an alert for Occupied Kashmir, calling on the UN to "warn India not to commit genocide in Kashmir".

The independent watchdog, in its alert, listed "early warnings of a massacre" in the disputed region. It mentioned India's ruling Bharatiya Janata Party's Hindutva ideology and the "authoritarian military rule by a minority military force (Hindus and Sikhs) over a majority Muslim population" as alarming factors that could act as triggers for genocide in Occupied Kashmir.

The group also noted that ten stages of the genocidal process also appear to be advanced in the disputed region. These were identified as:

Classification: Hindu and Sikh Indian Army 'us' versus Kashmiri Muslim civilian 'them'.

Symbolisation: Muslims have Muslim names (on ID cards), Kashmiri language, dress, mosques.

Discrimination: Hindu pandits were economically dominant until 1990; BJP reasserted Hindu power.

Dehumanisation: Muslims are called 'terrorists', 'separatists', 'criminals' and 'insurgents'.

Organisation: 600,000 heavily armed Indian Army troops and police dominate Kashmir.

Polarisation: Modi and the BJP incite anti-Muslim hatred; social media spread falsehoods.

Preparation: The Indian Army occupies Kashmir; BJP leaders speak of the "Final Solution" for Kashmir.

Persecution: Kashmiri Muslims are locked down, subject to arrest, torture, rape, and murder.

Extermination: Genocidal massacres occurred during Partition; since 1990, there have been at least 25 massacres with death tolls over 25.

Denial: Modi and BJP say their goals are to 'bring prosperity' and 'end terrorism'; they deny any massacres. No Indian Army troops or police are ever tried for torture, rape or murder. Modi's takeover is popular in India.

Taking to Twitter, Prime Minister Imran Khan issued yet another call to the international community for efforts to prevent "an impending genocide of Kashmiris" in Occupied Kashmir.

In his message on the 1st International Day for Victims of Violence based on Religion or Belief, he drew the world's attention to the "plight of millions of Kashmiris living under brutal Indian occupation, abuse and violence, deprived of all fundamental rights and freedom".

"The Indian occupying forces have trampled upon the rights of Kashmiris to observe their religious practices, including Eidul Azha," he added.


The Indian Occupation Forces have even denied them their right to observe their religious practices, including Eid ul Azha.
As the world shows solidarity for victims of violence based on religion & belief, it must also move to prevent an impending genocide of Kashmiris in IOK.

— Imran Khan (@ImranKhanPTI) August 22, 2019


Speaking to The Express Tribune, a former senior diplomat and international law experts agreed that the United Nations and the global community at large did appear to have woken up to the long drawn out plight of Kashmiris in Occupied Kashmir.

"The UN and the world community has long remained silent when it comes to Kashmir," said former foreign secretary Shamshad Ahmad Khan. "But the world's conscience seems to woken up to groundwork for genocide that Narendra Modi's government is laying out in Occupied Kashmir."

"The statement by OHCHR lays bare the illegality of India's attempted annexation of Occupied Kashmir," Shamshad noted. "It does signal an unprecedented response by the UN, but then Modi's actions when it comes to Kashmir have also been unprecedented," he pointed out. "Under Modi, India is behaving like Nazi Germany, or Serbs in Bosnia."

"It is clear that there is growing momentum within the UN to take cognizance of India's unchecked abuses in the Valley," said barrister Asad Rahim. "And it definitely has been some time since the UN and the international community has taken up the issue so consistently."

"Even Russia's affirmation of UN resolutions has come as a significant surprise for India," he pointed out. "So yes, what we are seeing is an unprecedented momentum when it comes to Kashmir."

Asad pointed out that it is not just the UN convention on Kashmir that India has violated. "The actions of its security forces in the Valley are a gross violation of the Geneva Convention as well, which would make them war crimes," he said.

"So now, it should not just be up to Pakistan to call out India on the abuses being committed in Occupied Kashmir. Global human rights organisations need to take up the issue as well, in view of the forced demographic change."

In response to a question, Asad agreed that the UN's increasing cognisance of excesses in Occupied Kashmir, along with global media coverage, could put significant pressure on Delhi. "While India is currently in grips of a radical agenda, even the BJP government is sensitive to international opinion," he said.

UK-based solicitor Muzzammil Mukhtar agreed with Asad on that count, but pointed out that India could always remain obstinate that Kashmir is a bilateral issue, like it had done in the past.

"Lets say India refuses to pay heed to UN and international pressure. There is nothing the UN can really do to compel India away from its stance in that case," he pointed out.

PM Imran says no point in talking to India

Asked if there were any legal remedies available to Pakistan on the matter, Muzzammil said it is very unlikely that the court will have jurisdiction over this issue. "Article 36(2) declarations accepting the ICJ's jurisdiction have indeed been made by India and Pakistan, however, the Indian declaration of 1974 makes it very clear that Kashmir is off the agenda," he pointed out.

"There is no bilateral agreement on specific matters between India and Pakistan which would allow the court to hear this very broad case. Also as we understand, there is no multilateral treaty to which the two states are parties that would include self-determination, unlike the Consular Convention and the very recent Jadhav case," he stressed.

"The only possibility to bring the matter before the ICJ is by way of a Security Council or General Assembly resolution requesting an advisory opinion from the court," Muzzammil added. He pointed out that this was also the belief of renowned Malaysian origin barrister Dato' Firoz Hussein Ahmad Jamaluddin, who has extensive experience in international law and ICJ matters.

Muzzammil noted that while a diplomatic victory for Pakistan, the UN's increasing cognisance was just a small step for now. "A lot more needs to be done. To begin with, Pakistan must ramp up its diplomatic offensive and try to persuade states that traditionally have not subscribed to its stance on Kashmir that this is more than a Pakistan-India dispute. It is ultimately about Kashmiris," he said.

"Simultaneously, Pakistan can also attempt to persuade the UN to seek ICJ's advisory opinion. No just ICJ decision would be able to deny that India's revocation of Article 370 is illegal."

Asad noted that while Pakistan has certainly contributed to this international push against India on Kashmir, "there is a lot it could have done and should do."

"To begin with, Pakistan's approach to Kashmir needs to be Kashmiri-centric, not Pakistan-centric. It needs to be Kashmiri-led process supported by Pakistan's principled stance," he said.

Shamshad, meanwhile, urged the world community to play its due role in realising Kashmiris' aspirations.

"Kashmir is today a sombre reminder to the world that it cannot continue to ignore the legitimate aspirations of the Kashmiri people," he said. "No amount of atrocities and humiliations will stop them from pursuing their legitimate cause.

India's efforts to obfuscate the Kashmir dispute as an issue of terrorism will not succeed."

Shamshad added "the world must know that there is but one fair, just, legal and moral solution to Kashmir, which was provided by the UN, and which both India and Pakistan mutually accepted in UN Security Council resolutions."

"Kashmiris want their right of self-determination. The underlying cardinal principle of self-determination cannot be thrown overboard," he said.
COMMENTS (1)
Comments are moderated and generally will be posted if they are on-topic and not abusive.
For more information, please see our Comments FAQ