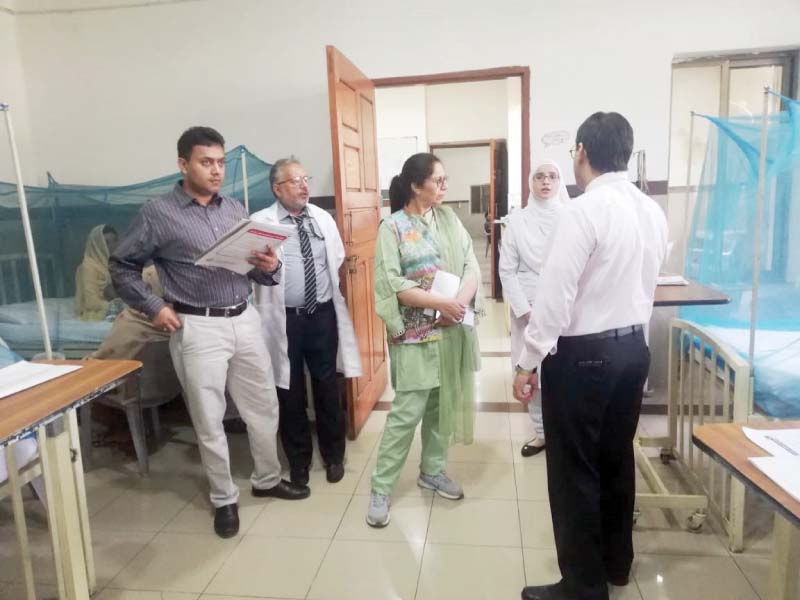 ---
RAWALPINDI: Spike in dengue cases has exacerbated the fears of an epidemic after monsoon season.

Almost 150 people have been admitted in public hospitals of Rawalpindi and Islamabad, according to official statistics. These people are the most virulent carriers of dengue fever and have been kept in quarantine wards.

Subsequently, the allied hospitals in Rawalpindi recorded 52 cases of dengue fever during the past week. Some 24 patients were brought to Holy Family Hospital (HFH), 14 to Benazir Bhutto General Hospital (BBGH) and 14 to District Headquarters Hospital. Further, around a hundred more patients were brought to these hospitals with symptoms of dengue fever. The rest were in the federal capital.

The district administration has expressed concern over the surge of dengue patients recorded recently.

During a meeting yesterday, the Rawalpindi Commissioner Saqib Zafar expressed displeasure over performance of related departments that were responsible for reporting the remaining percentage of dengue larvae.

Capital's hospitals told to devise dengue management plans

The commissioner directed to prepare a precise record of field activity via android application while he ordered to write letters to secretaries of all departments to ensure anti-dengue activities in accordance with SOPs.

The commissioner directed to dewater and improve cleanliness of junkyards, graveyards and opened plots in the city.

Environmental department was also directed to complete its task while the commissioner ordered to register cases against people and departments which neglected dengue precaution measures despite repetitive warnings.

The commissioner also abolished Sunday holiday of all employees working in anti-dengue campaign and held them the responsibility for launching anti-dengue crash programme in sensitive area including Airport Housing Society, Gulbahar Colony, Wakeel Colony, Nawaz Colony, and Kot Jabi.

Hospitals start SOPs

With a sudden rise in the number of dengue patients, public-sector hospitals in the garrison city have started their treatment according to Standard Operating Procedure (SOP) issued by the government.

In this regard, nets have been installed at every bed in dengue ward while a special check is kept on vital signs of a dengue patient.

The hospitals are also maintaining a urine chart of every patient while blood tests and ultrasound of patients are also being conducted properly.

All patients are satisfactorily administered fluid and other drips to keep the body hydrated in case of low platelet count.

809 cases of dengue reported from Karachi this year

The Holy family Hospital (HFH) Infectious Diseases Department Head Dr Mujeeb Khan informed that a number of patients with dengue symptoms visited the hospital every day.

He added the treatment of dengue positive patients started according to the treatment plan as soon as they were admitted.

Moreover he said that patients visiting the hospital with dengue symptoms were admitted, and then discharged after initial treatment.

Dr Mujeeb said that medical and paramedical staff was working round the clock for implementation of plan.

He added that cleanliness in the hospital was also being strictly ensured and monitored.

Health department director's visits

Punjab Health Department Director Shehnaz Nasreen, visited allied hospitals in the garrison city.

54 more dengue cases surface

The official also visited the healthcare system and dengue wards of Holy Family Hospital (HFH), Benazir Bhutto General Hospital (BBGH) and District Headquarters Hospital (DHQ). While visiting the hospitals, Nasreen applauded healthcare system and expressed that the system could use some imporvements.

Later, she also briefed the Rawalpindi commissioner regarding condition of all three hospitals.

Published in The Express Tribune, August 18th, 2019.