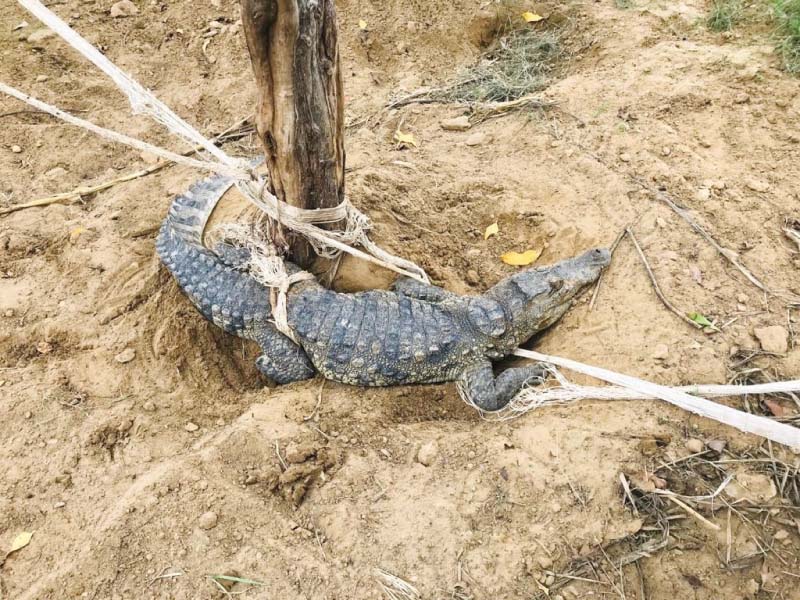 ---
KARACHI: At least seven crocodiles escaped from a farmhouse after its boundary Wildlife officials direct farmhouse owner to shift crocodiles to safer location wall collapsed in the wake of the torrential rains in the provincial capital. This caused frenzy among the wildlife and rescue agencies, which managed to capture five crocodiles immediately and the remaining two some time later. The Sindh Wildlife Department has, meanwhile, directed the owner of the farmhouse to shift the crocodile to a safe location.

The farmhouse is located in Steel Town, adjacent to a filter plant, and its walls had weakened owing to the recent rains. One of the walls fell on Wednesday, following which the seven young crocodiles escaped and found sanctuary in water bodies and agriculture fields nearby.

Enhanced security measures at Lahore Zoo – a welcome change

This caused panic among the local population and the relevant police station was contacted. A large contingent of police personnel reached the spot. The law enforcers also contacted the Sindh Wildlife officials.

All seven crocodiles were captured after long and tireless efforts of the Sindh Wildlife officials. Five of the seven crocodiles were captured at first, while the remaining two had entered a pond created by the rainwater. They too were captured after a few hours.

Sindh Wildlife Conservator Javed Mahar told The Express Tribune that the incident occurred on the night between Wednesday and Thursday. He said that teams were dispatched to Steel Town as soon as they were informed of the incident.

Mahar said that the farmhouse owner has the license to keep crocodiles and after the recent incident, he has been warned to either gift the crocodiles to the Sindh Wildlife Department or shift them away from the population. Mahar said that after the holidays and the scrutiny of the documents, the owner of the farmhouse may be fined.

Animals in Lahore zoos feel the heat

According to the Sindh Wildlife deputy warden, Adnan Hamid Khan, the department's first priority was that no harm must fall on the people because of the escaped crocodiles and neither should they be killed by someone out of fear.

The pond was emptied with the help of machines after which the crocodiles were captured with nets. He said that after the holidays, the legal matters regarding keeping the crocodiles in the farmhouse will be looked into.

Published in The Express Tribune, August 17th, 2019.
COMMENTS
Comments are moderated and generally will be posted if they are on-topic and not abusive.
For more information, please see our Comments FAQ