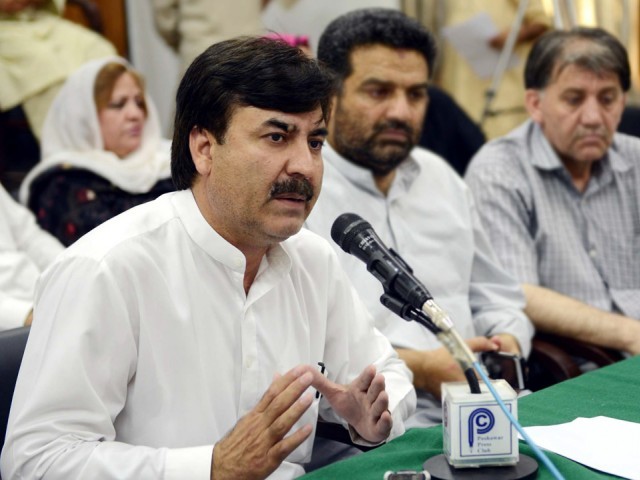 ---
PESHAWAR: Civil Secretariat in Peshawar celebrated the 73rd Independence Day in solidarity with Kashmir on Wednesday.

Minister for Information and Public relations Shaukat Ali Yousafzai was the chief guest on the occasion and unfurled the national flag. A contingent of police saluted the flag.

August 14 being celebrated as Kashmir Solidarity Day

Khyber Pakhtunkhwa (KP) Chief Secretary Mohammad Salim Khan presided over the ceremony. Special Assistant to Chief minister Kamran Bangash, MPA Rabia Basri, Farid Ullah Khan and other political officials also attended the ceremony.

White and green pigeons and balloons were released into the air to manifest sentiments of freedom, followed by students singing national songs.

Addressing the ceremony, Yousafzai paid a tribute to the martyrs from the army, police and civilians, saying it was their sacrifices that gave a new life to the nation.

He added that the martyrs were Pakistan's national heroes and will be remembered forever.

"It was because of their sacrifices that the entire nation can celebrate and breathe in the open air," said Yousafzai. "The people of Indian occupied Kashmir (IoK) will also succeed in achieving freedom from the illegal occupation of Indian forces."

Countrywide rallies in support of IoK on 'Independence Day'

Expressing concerns about the condition of IoK, Yousafzai said freedom was the biggest blessing and could only be known to those who were deprived of it.

He said the Indian government can no longer prolong its unjust occupation of held Kashmir. Adding that "it is the power of faith that lends strength, not the number of soldiers".

The chief guest later planted a sapling in the garden of the secretariat.


COMMENTS
Comments are moderated and generally will be posted if they are on-topic and not abusive.
For more information, please see our Comments FAQ