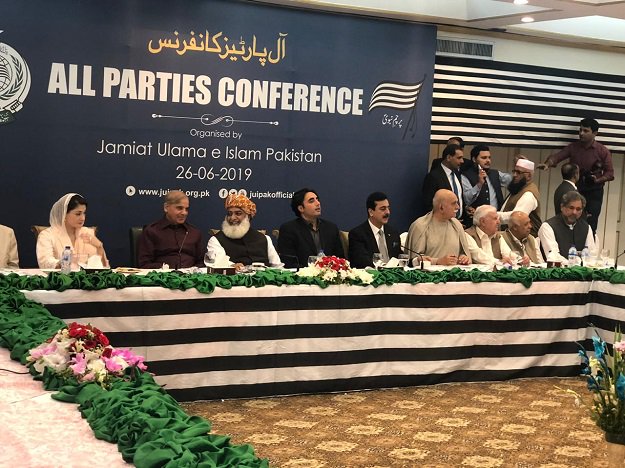 ---
ISLAMABAD: The joint opposition has decided to organise another all parties conference (APC) after Eidul Azha chaired by Jamiat Ulema-e-Islam-Fazl (JUI-F) chief Maulana Fazlur Rehman apparently in an attempt to send a message to the government that the alliance was still intact.

The development comes in the wake of the misunderstandings that developed between the main component parties of the alliance, the Pakistan Peoples Party (PPP) and the Pakistan Muslim League-Nawaz (PML-N), following the joint opposition's failure to unseat the Senate chairman through a no-confidence motion.

The opposition's Rahbar Committee has agreed on identifying the 14 opposition senators who did not vote in favour of the no-trust motion and take action against them. It is also considering moving another no-confidence motion against the Senate chairman.

Opposition slams 'manipulated' passage of budget

The Rahbar committee met at the Parliament House on Friday.

Speaking to reporters after the meeting, committee members Akram Durrani of the JUI-F, Ahsan Iqbal of the PML-N and Mian Iftikhar Hussain of the Awami National Party (ANP) condemned the arrest of PML-N Vice President Maryam Nawaz.

"The 'selected' prime minister and his government have created immense difficulties for Pakistanis and sold out Kashmir," said Durrani.

"We have a single stance on Kashmir and we won't let the government run away from the issue," he added.

Durrani alleged that the PTI government had sabotaged the China-Pakistan Economic Corridor (CPEC) and work had stopped on the project.

Opposition ratchets up pressure on govt

"Corruption is at its peak in Khyber-Pakhtunkhwa and has swept away the Billion-Tree Tsunami and BRT projects," he added.

The JUI-F leader said the opposition parties were united and would consult with each other to set the date for the APC.

PML-N leader Ahsan Iqbal said the Prime Minister Imran Khan had sold out Kashmir on his trip to the US and he would not be allowed to succeed.

"The PTI government is responsible for the country's economic crisis because of its flawed policies and wants the blame to be pinned on the army as well," he added.

Mian Iftikhar of the ANP questioned as to why Maryam was arrested in such haste. He also demanded that the production orders of detained MNAs from Waziristan be issued.