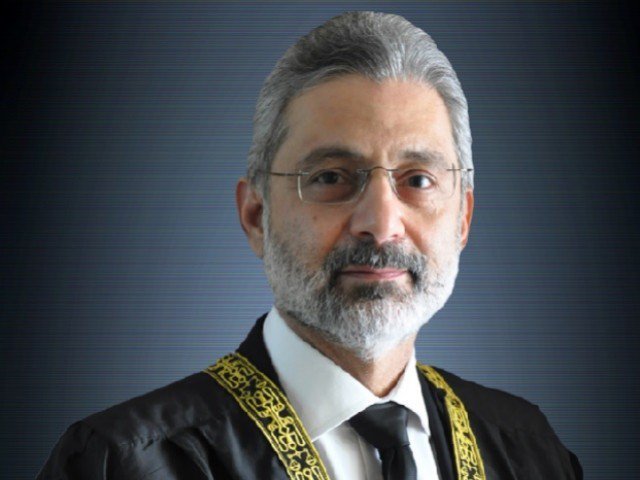 ---
ISLAMABAD: The Supreme Judicial Council (SJC) charged Justice Qazi Faez Isa over "insinuations against state institutions".

The Supreme Court judge, in his constitution petition, had raised question whether the contents of the "rejoinder (illegally filed by the AG) and allegation of insinuations against the State Institutions – which was not in the references – could be included" into the show-cause notices.

The federal government through Attorney General for Pakistan submitted a rejoinder wherein it has been alleged that Justice Isa had insinuated against the "state institutions". It is learnt that the SJC in the second show-cause notice regarding writing letters to the president, has charged Justice Isa over "insinuations against state institutions".

SC admits Justice Isa's petition for initial hearing

A senior government official revealed that actually Justice Isa had written three letters to the president. Interestingly, his third letter, which he wrote on June 12 and complained about the alleged media trial, is yet to be made public

Justice Isa in his third letter complained that neither he nor the prime minister replied, nor sent him a copy of the reference. However, an unsigned document which purports to be the reference is available on the media, he added.

The Supreme Court judge said that if due process was followed, public disclosure was not made and the matter left to the council, there would be no issue. "However, conducting my media trial is in clear breach of constitutional provisions," he said.

"There are innumerable reports that the government is manipulating the media; this gains further traction when on a talk show, the lady in charge of the Ministry of Information said the government controls Pemra," he added, referring to the Pakistan Electronic Media Regulatory Authority.

Justice Isa challenges presidential reference

The letter further said that "the government team feigns naivety and puts forward false pretence – if he [Justice Isa] has not done anything wrong then why should he be worried". Justice Isa said that it is correct that he has done nothing wrong and "am not worried".

However, he wondered that after the government team's unabated vilification campaign, how he will be able to assuage public opinion and redeem his honour and reputation. The government team has not respected the jurisdiction of the council and has attempted to undermine its credibility, he added.

"It is a matter of concern when the government team disregards constitutional provisions, demonstrates malice aforethought, proceeds with ulterior motives, muzzles the media, and controls a one-sided narrative? Surely, we do not want this to be the future of Pakistan", says the letter.