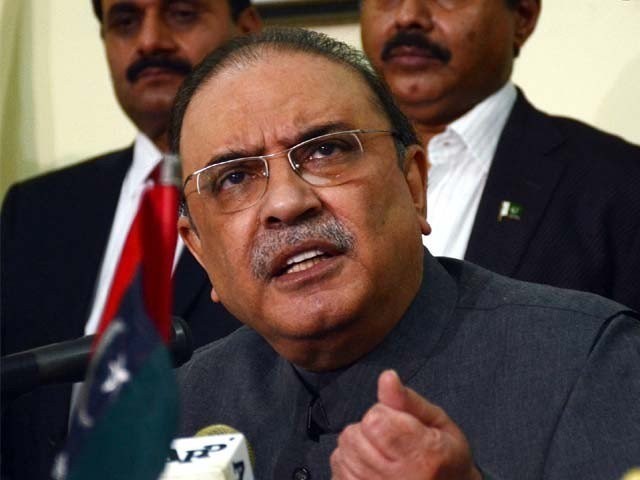 ---
Former president Asif Ali Zardari has landed in hot water after his 'contentious' remarks on migrants instigated an uproar in the joint session of parliament, held on Wednesday to discuss the recent developments in Occupied Kashmir.

Amid heavy criticism on Zardari's take on Mohajirs, Pakistan Tehreek-e-Insaf and Muttahida Qaumi Movement tabled two separate resolutions against the Pakistan Peoples Party co-chairman in the Sindh Assembly on Friday, Express News reported.

Shehzad Qureshi, a PTI MPA tabled a condemning resolution, stating that "Zardari's remarks on Mohajirs were not only disheartening as it undermined the endless efforts of founders of the nation, but have also forsaken the sacrifices our ancestors made for our country".

According to the resolution's draft, Qureshi termed the controversial commentary an attempt to sabotage sacrifices of Kashmir martyrs for which the former president, he demanded, should seek an apology from the nation.

PM Imran forms high-powered committee for Kashmir deliberations

The second resolution was tabled by MQM MPA Wasim Qureshi, who also censured the derogatory remarks made by Zardari "as it spreads racial and ethnic discrimination especially when we should stand united on the Kashmir issue".

While addressing the joint parliament session on Wednesday, the PPP co-chairman had made controversial remarks over migrants.

A day later, Federal Minister Khalid Maqbool Siddiqui reacted strongly to Zardari's remarks in the National Assembly, saying that Mohajirs were proud of the biggest migration in the country's history.

"Sixty per cent Hindus living here evacuated their properties. No one gave us lands in charity," he said.

Targeting the former president, he said, "Mohajirs left more money than the money you have collected through looting. Our sacrifices should have been acknowledged. We are walking out of the house in protest against such remarks against Mohajirs."

The Muttahida Qaumi Movement MNAs also staged a walkout during Thursday's session.