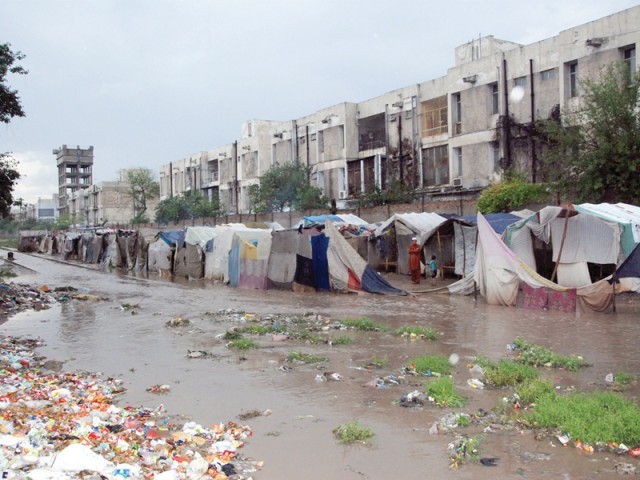 ---
KARACHI: Expressing concern over the presence of stagnant water in various parts of the metropolis even a week after the first spell of monsoon rain, health experts have warned of possible epidemics of various water-borne diseases, fevers with unknown origins and viral diseases in Karachi.

Cautioning the government's health agencies, the health experts warn of an emergency-like situation in the city and have advised the provincial government and city administration to take appropriate measures to mitigate the impending crisis.

Most doctors in the city have witnessed a rise in the number of patients affected by various diseases such as gastroenteritis, typhoid, cholera, hepatitis A and E, conjunctivitis, skin diseases, diarrhoea, malaria, dengue and chikungunya.

As temperature soars, water-borne diseases rise

Speaking to The Express Tribune, Pakistan Medical Association secretary-general Dr SM Qaiser Sajjad said that despite its size and population, the provincial capital has never been given due attention before and after rain. "This time, the situation might be different as stagnant rainwater has not been removed in over a week," said Dr Sajjad. The rainwater on roads and streets provides an ideal breeding ground for mosquitoes.

"We, as citizens, have to behave properly. One must not dispose of garbage everywhere. It ultimately disturbs the whole system," advised Dr Sajjad, adding that government and non-governmental organisations should come forward and launch awareness sessions through camps and media.

Chest specialist and family physician, Dr Abdul Ghafoor Shoro, said that a rise in the incidence of water-borne diseases has already been observed after last week's downpour. Dr Shoro added that viral and bacterial diseases will affect residents living in low-lying areas the most. "I fear the situation will take a turn for the worse after Eid," he added.

Criticising the measures taken by the Sindh government after the first monsoon rains in Karachi, Dr Shoro said that it has not taken any concrete steps yet. "Cases of water-borne diseases are multiplying on a daily basis," he said, adding that the water distribution agency [Karachi Water and Sewerage Board] was primarily responsible for the sorry state of affairs. "The people of Karachi are consuming contaminated water," he remarked. "Even after heavy rainfalls, citizens are provided polluted water as pipelines of sewerage and water are fixed side by side without proper planning."

'All-is-well'

Sialkot residents vulnerable to water-borne diseases

For his part, Sindh Health Director General Dr Masood Ahmed Solangi rejected the health experts' analysis, saying that the situation was under control across the province. "Rainwater doesn't cause water borne-diseases," he said. "Water supply agencies [such as the KWSB] should maintain their infrastructure. The health department remains high alert in emergency situations," he added.

Justifying his remarks, Dr Solangi said that the stagnant water in Karachi will not cause harm to citizens until it changes its color. "I think the dewatering process is under way and I am not worried if it remains there even for even another week."

"I absolutely reject news of any outbreak of water-borne diseases in the city or anywhere else," the Health DG said. "Only snake bite cases are being reported from remote areas like Umerkot and Tharparkar."

During a meeting with Sindh Chief Minister Syed Murad Ali Shah on Wednesday, health department officials informed him that the dilapidated infrastructure of the KWSB will be responsible for diseases after the monsoon rains in cities like Karachi and Hyderabad.

Published in The Express Tribune, August 9th, 2019.


COMMENTS
Comments are moderated and generally will be posted if they are on-topic and not abusive.
For more information, please see our Comments FAQ