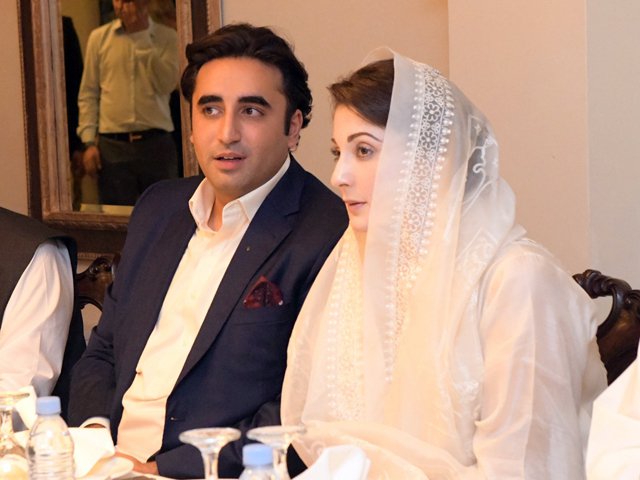 ---
ISLAMABAD: Chaos reigned supreme during Thursday's National Assembly session as soon as the news of the arrest of Pakistan Muslim League-Nawaz Vice President Maryam Nawaz reached the lower house of parliament.

Pakistan Peoples Party Chairman Bilawal Bhutto Zardari was infuriated upon hearing the news and raised the issue in the house in a fit of rage.

"If the rulers want to fight they should fight with men. Dictator Gen Zia was the only man who chased women of political opponents. We are experiencing the same situation in this new dictatorial Pakistan," said the PPP chairman.

"History will remember that [Prime Minister] Imran Khan spoke about justice, but arrested Maryam Nawaz without filing of a charge sheet."

After an emotional address, Bilawal staged a walkout from the house in protest.

Outside the house, Bilawal had an informal chat with the journalists.
"At a time when whole Pakistan should be united for the Kashmir cause and we are condemning [Indian Prime Minister Narendra] Modi for arresting Kashmiri politicians, the selected PM is failing to control his ego," said Bilawal, accusing Imran of playing politics of revenge at such a sensitive time.

The PPP chairman's remarks against the government drew Federal Minister Murad Saeed's ire.

"Bilawal has no honour and he should be ashamed of himself. The one who invited Modi and Sajjan Jindal [Indian business tycoon] to his home is a friend of Modi's," said Murad. "A shameless person [Bilawal] has stepped forward whose father and aunty have looted the country."

The opposition members continued protesting during Murad's speech.
They surrounded the speaker's dais and chanted slogans. It became difficult to continue the session and deputy speaker postponed the meeting till 11am on Friday.

Earlier, prayers were offered for those who were martyred in the terrorist acts and for the relatives of the members of parliament.
Federal Minister Khalid Maqbool Siddiqui reacted to Asif Zardari's remarks a day earlier about Mohajirs, saying that Mohajirs were proud of the biggest migration in the country's history.

"Sixty per cent Hindus living here evacuated their properties. No one gave us lands in charity," he said.

Targeting the former president, he said, "Mohajirs left more money than the money you have collected through looting. Our sacrifices should have been acknowledged. We are walking out of the house in protest against such remarks against Mohajirs."

The Muttahida Qaumi Movement MNAs staged a walkout.






COMMENTS
Comments are moderated and generally will be posted if they are on-topic and not abusive.
For more information, please see our Comments FAQ