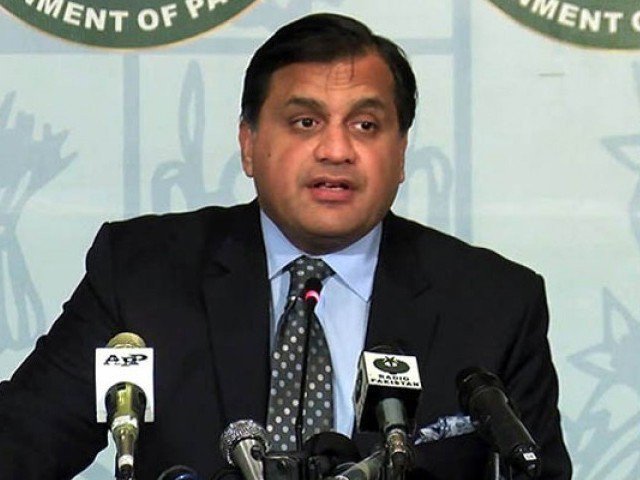 ---
ISLAMABAD: Islamabad on Thursday rejected New Delhi's stance and said revocation of Article 370 was not India's internal matter.

During his weekly briefing, Foreign Office (FO) Spokesperson Dr Mohammad Faisal said that the final decision on Kashmir needs to be made by the United Nations (UN).

India on Monday revoked Article 370 of its constitution stripping occupied Kashmir or its special status. In response, Pakistan downgraded its diplomatic ties with India.

However, the FO reiterated its commitment to the Kartarpur corridor – being constructed to facilitate Indian Sikhs in their pilgrimage – and said the project will continue as planned.

Faisal added that the foreign ministry has sent letters to the UN Security Council to look into India's unilateral and illegal Kashmir move.

India urges Pakistan to review decision of downgrading diplomatic ties

"Since our last briefing, 12 Kashmiris have embraced martyrdom while hundreds have been injured," he said adding that occupied Kashmir has been converted into the world's largest prison.

He further added that India has deployed additional troops in occupied Kashmir and has cut all lines of communication.

"It is torture," he underscored, stressing that the region is in a humanitarian crisis.

The FO spokesperson requested the international community to take notice of the gross abuse being carried out in the occupied valley.

Faisal further said all quarters were on the same page regarding occupied Kashmir and the joint parliament session had also endorsed it.

"We wrote a letter to Modi to say we are ready to discuss everything," he said adding that New Delhi cannot even complain of Islamabad being reactive.

In regards to the people of the occupied valley, the FO reiterated that they would be supported "politically, diplomatically and morally".

He also rejected reports in the Indian media that banned Jammatud Dawa chief Hafiz Saeed had been released and clarified that the JuD leader was in prison. He termed the reports fake.

In response to a question regarding the current situation affecting the Afghan peace process, Dr Faisal said the Kashmir and Afghanistan were separate matters and will be dealt separately.
COMMENTS
Comments are moderated and generally will be posted if they are on-topic and not abusive.
For more information, please see our Comments FAQ