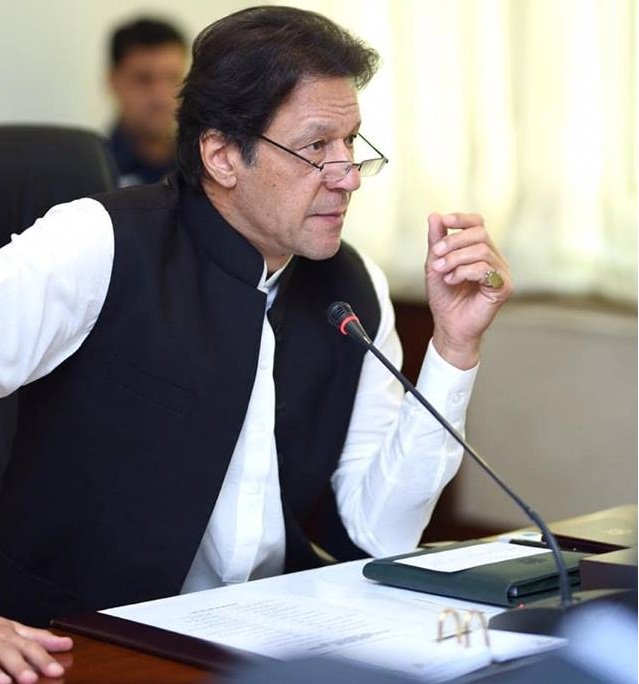 ---
ISLAMABAD: Adviser to Prime Minister on Commerce Abdul Razak Dawood has said that he has approached Prime Minister Imran Khan to seek his advice on stopping the National Accountability Bureau (NAB) from taking action against the business community.

Responding to a question about NAB's action against Hussain Dawood of the Engro Group, which runs a liquefied natural gas (LNG) terminal, the adviser said he had taken up the issue with the premier.

"I have discussed it with the prime minister, it is not a good thing, NAB is not for every businessman, we have to stop it," remarked Dawood while speaking at a press conference on Wednesday. However, he did not disclose the PM's response but called it a matter of concern.

Bilawal accuses PM Imran of blackmailing NAB

Replying to a question about escalating tensions with India, the adviser said Pakistan was analysing the situation along the Line of Control to know the exact position. "Trade is going on with India and we will not take decision in haste about suspending bilateral trade."

Turning to exports, the PM aide said Pakistan's exports rose 14.23% (or $233 million) to $1.87 billion in July 2019 compared to $1.63 billion in the same month of previous year. Interestingly, imports fell 18.39% (or $884 million) to $3.9 billion against $4.8 billion in July 2018. "Our trade gap is going in the right direction, however, this month's [August] performance will give us a real trend," he said.

Dawood pointed out that economists were of the view that currency depreciation always had an impact after a lag of six to eight months. "There will be no more devaluation of the rupee against the dollar," he emphasised.

Among export products, according to the adviser, rice exports increased 71% year-on-year in July 2019, readymade garments 17%, plastic and plastic goods 34%, chemicals 26%, mangoes 33% and footwear 24%.

NAB operating at PM Imran's behest: Maryam Nawaz

Replying to another question, he said businessmen thought they should not cooperate with the government in documentation of the economy but the "government will not move back and they must register themselves." He pointed out that big businesses were ready to support documentation but small shopkeepers were resisting it.

Regarding year-on-year reduction in imports in July 2019, he said imports of mineral products dropped 23%, vehicles 42%, textile products 35%, and paper and paper board 22%. Interestingly, imports of machinery increased 11% and high-speed diesel 26%.

Trade with Afghanistan

The PM adviser revealed that Pakistan had quite good discussions with Afghan President Ashraf Ghani during his visit to Pakistan. "On our recommendation, a working team of Afghanistan came to Islamabad to discuss bilateral trade and Afghan Transit Trade (ATT). I would be visiting Kabul and we are going to fix the visit date between August 20 and 30," he said.

Dawood pointed out that Afghanistan was ready to discuss preferential trade agreement (PTA) with Pakistan and discussions would also be held on ATT. "Doing more regular trade in a proper way with Afghanistan is better for us," he remarked. Under ATT, Afghanistan imports black tea, lead pencil, razors, television sets and some other goods, which then come back to Pakistan and hurt local industries.

Responding to a question about inclusion of India in the transit trade agreement, Dawood stressed that Pakistan had informed Afghanistan that it was a bilateral trade arrangement between Islamabad and Kabul. "Kabul has agreed with Pakistan's viewpoint."

Trade with China, Korea

"We have got some market access to China, Indonesia, Malaysia and the European Union. Besides, we are working on getting market access to the US, Canada, Japan, Korea and Australia," he revealed.

By October this year, Pakistan will formally sign phase-II of FTA with China.

He announced that the federal cabinet would very soon give approval to the National Tariff Policy. The prime minister has already given his nod about six weeks ago.

Regarding his visit to South Korea, Dawood said they sought preferential treatment from Seoul. "We have told Korea that it is giving duty-free access to Bangladesh, India, Vietnam and Cambodia, while on Pakistani products it charges 13% duty due to which we cannot compete. So, we have sought similar treatment," he said.

In that regard, the Korean side agreed to hold a working group meeting at the start of next month in Korea. Pakistan exports goods worth $300 million to Korea whereas its imports stand at $600 million. 

Published in The Express Tribune, August 8th, 2019.

Like Business on Facebook, follow @TribuneBiz on Twitter to stay informed and join in the conversation.