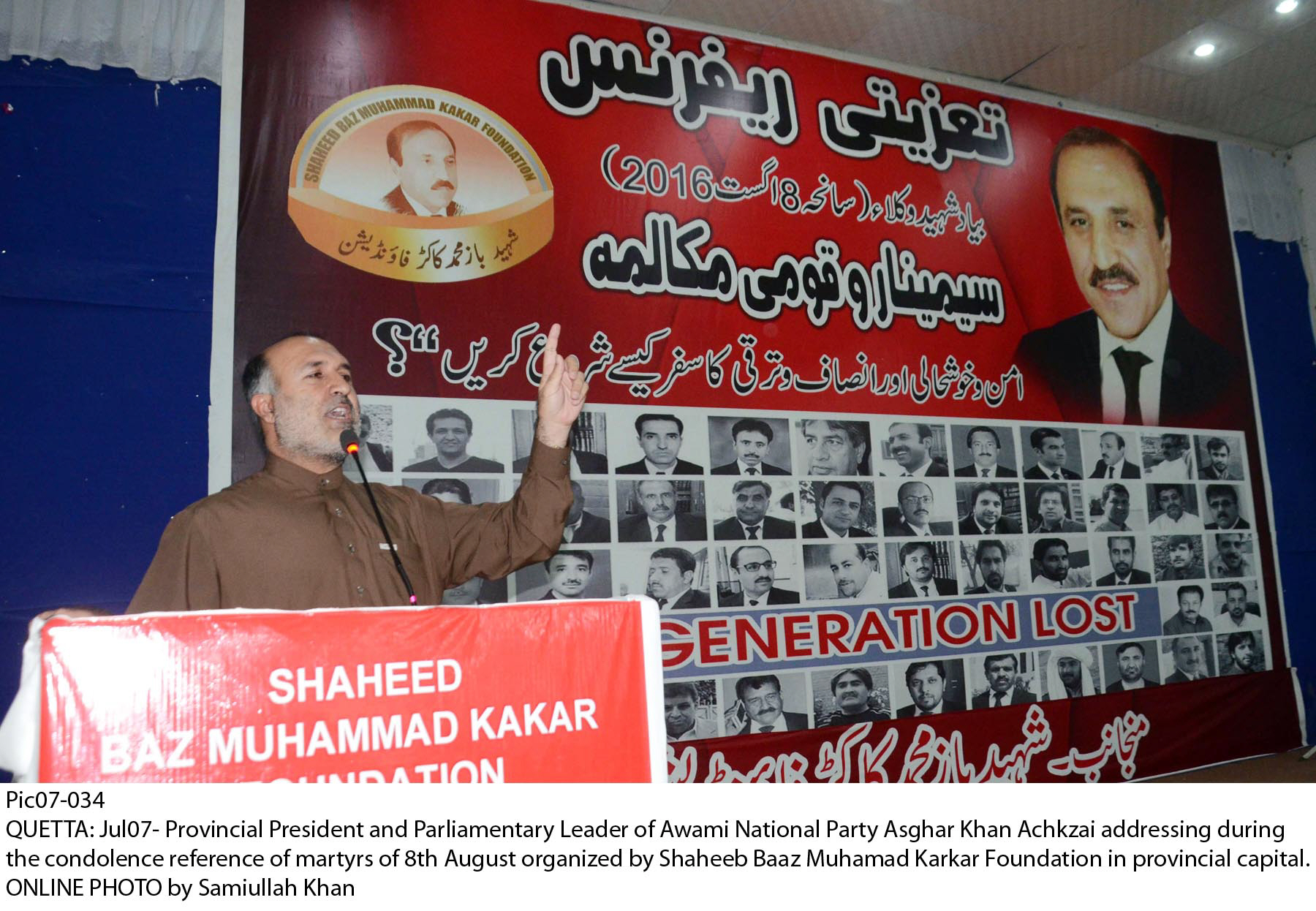 ---
QUETTA: A condolence reference was held by the Balochistan Boy Scout Association at its Quetta headquarters to pay tribute to the victims of the horrific suicide attack on August 8, 2016, in which 70 people – the majority of them lawyers – were killed.

"Most of the victims of the August 8th tragedy were heads of their families and their main breadwinners," Awami National Party Balochistan chapter President Asghar Achakzai said during his address at the reference which was attended by provincial ministers, leading lawyers and representatives of different professions.

The ANP leader, who lost his brother in the suicide attack, said that the attack could have been avoided if the government had implemented the National Action Plan in letter and spirit.

"The setback caused by the attack on the legal fraternity will haunt us for a very long time," Achakzai said of the incident.

Blast hits Hazara community's shoe market in Quetta

He also questioned why the government had challenged the report of the judicial commission on the incident. The Justice Qazi Faez Isa-led commission, formed on the orders of the top court, had blamed the government, including the interior ministry, over its failure to take action against militant organisations.

Supreme Court Bar Association President Aman Ullah Kanrani called the August 8 incident 'an attack on the sovereignty of Pakistan'.

Pakistan Bar Council Vice Chairman Amjad Shah said that the legal fraternity would continue to fight for justice despite threats as it was pivotal to development. "We will continue to fight for the rule of law so that we can continue the mission of the martyrs."

Senior lawyer Ali Ahmed Kurd, who hails from Quetta, said that the attack had targeted an entire generation of lawyers that had played a key role in the restoration of democracy in the country.

"We will continue to fight for the supremacy of the Constitution even in the face of mortal danger," he added.

Panel named to probe Reko Diq fiasco

National Party Secretary General Jan Buledi, who also spoke at the occasion, urged political parties to put differences aside and unite to fight against the menace of terrorism.

The suicide attack on August 8 three years ago took place as lawyers and journalists were crammed in the emergency department of the state-run hospital where the president of the Balochistan Bar Association, Bilal Anwar Kasi, had been brought earlier after a shooting that proved fatal.

The ensuing suicide attack claimed the lives of at least 70 people, while over a hundred others were injured. Of those martyred, more than 50 were lawyers.