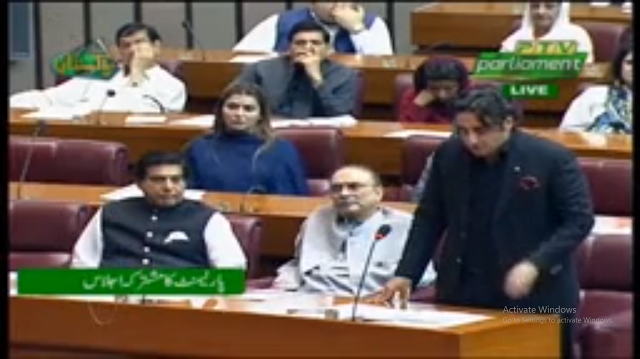 ---
Pakistan Peoples Party (PPP) Chairman Bilawal Bhutto-Zardari  on Tuesday lashed out at Prime Minister Imran Khan for failing to see warning signs in Indian Occupied Kashmir (IOK), claiming that the government is naive in thinking it could resolve the Kashmir issue with New Delhi.

Bilawal remarked while addressing a joint session of parliament which was called a day after IOK was stripped of its special status and the disputed Himalayan valley was suffocated with an indefinite security lockdown and elected representatives placed under house arrest.

Internet, cable and phone connections were cut to over 8 million residents to silence the people of Occupied Kashmiri.

Changing IOK status was Modi's endgame all along: analysts

The PPP leader deemed Indian Prime Minister Narendra Modi to have "blood on his hands"  and is "playing with fire" after New Delhi's actions in IOK.

Bilawal called for drastic diplomatic measures and should not depend on its western allies for help.

He said, "We have seen a historical attack on international laws, precedents, democracy and self-determination," adding, "This was also an attack on India... and the ideals of it being a secular nation where all faiths can live."

The scion of the Bhutto political dynasty went on to say that this is "an attack on the India of Nehru and Gandhi as well as Vajpayee".

Revoking IOK's special status, the PPP chairman said, means the Kashmiri people will become a minority in their own home.

"With one stroke of the pen New Delhi has opened up a Pandora's Box which has engulf the entire region in flames," he added.

Bilawal said that the Kashmiri people rejected the Indian decision and the world should also follow suit. "We share the same religion, culture and geography with them."

Drawing the government and PM Imran into his line of fire, the PPP leader said, "Our prime minister has asked what he can do... so far we haven't even seen a policy statement."

He said the government is bereft of any clear strategy or plan of action.

The prime minister, Bilawal said, must rise to the occasion as the public are looking to him now.

"It is disgraceful that the foreign minister is not in Pakistan and he should be called back immediately so he can get to work," he said.

Bilawal also said that Modi has blood on his hands and that Pakistan has now twice welcomed his election victory. "Instead of exposing the butcher of Gujarat we have chosen to give him [Modi] legitimacy."