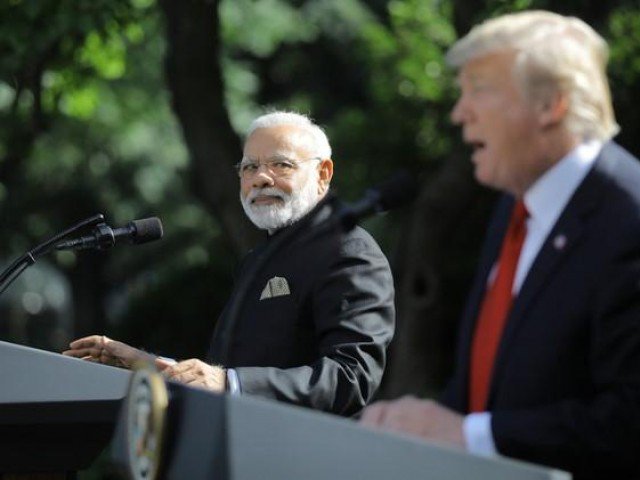 ---
President Donald Trump has once again reiterated his offer to mediate between Pakistan and India on the Kashmir dispute. The president's initial remarks, made while sitting alongside Prime Minister Imran Khan, triggered a storm in the Indian parliament and there were demands for Prime Minister Narendra Modi to clarify his position on the matter — primarily because India has always been irked at any suggestion of third-party involvement in tackling the Kashmir issue.

At the centre of this storm is Modi, who seems to be increasingly frustrated due to the economic cost of the military campaign in Kashmir. While Modi requested Trump to step in as a mediator, he does not have the spine to defend himself before the ultra-conservative elements at home. Therefore he remains silent.

Modi's silence has infuriated his conservative base. Unable to deny or reject Trump's claim, the panic-stricken Indian PM has resorted to intensifying the brutal campaign against unarmed citizens of Kashmir — only to pacify the anger of his Hindu nationalist supporters and those who have snubbed him for asking the US president to mediate.

The Indian government orders to increase the presence of its military in the occupied territory and its use of brute violence against unarmed Kashmiri's — particularly when they could give peace a chance — expose New Delhi's ulterior motives.

Signs of the BJP government's confusion became evident when Modi authorised a massive increase in the number of Indian troops in Kashmir. Since then, the Indian army has used cluster ammunition to target the civilian population in Azad Jammu and Kashmir across the LoC, violating all international laws, and now rumours of trifurcation of Kashmir are afoot.

For too long, India's violations have gone unquestioned but this recent episode of mindless barbarism in Kashmir, which has been carefully choreographed by the Modi regime, to silence opposition over Trump's offer to mediate over the Kashmir issue, cannot be ignored. India must be penalised for targeting civilians in the most heinous ways and specifically for its recent violation of the Convention on Cluster Ammunition, not to mention all other international humanitarian laws.

Published in The Express Tribune, August 4th, 2019.

Like Opinion & Editorial on Facebook, follow @ETOpEd on Twitter to receive all updates on all our daily pieces.