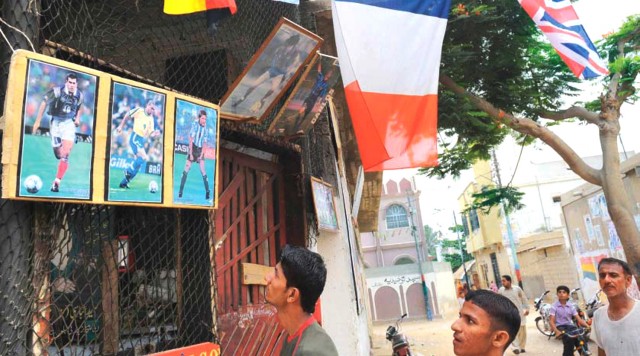 ---
Pakistan may not be participating in the fotball World Cup but the craze for the biggest sporting event is at an all-time high with fans gearing up to cheer every moment of it.

From Lyari to Clifton, football fever has the fans hopping mad as they get ready to support their favourite team in the event starting tomorrow in South Africa.

Fans in Lyari are eager to see the 32 teams eye the prestigious glory - being crowned Fifa world champions. The gang war that grips the area is not a hurdle as they chalk out plans to enjoy the extravaganza.

"The security situation in the area is not a concern for these fans," said Yaqoob Baloch, a football organiser. "They've already bought flags and posters of their favourite teams and you'll see kids having memorised the schedule."

Baloch added that locals are also planning to install large screens in a few areas including the Navaline Eagle Chowk and the Lyari Town Office near the South Football House.

Former Pakistan captain Zafar Iqbal said that majority of the fans are supporting Brazil and cheering  Lionel Messi and Cristiano Ronaldo. Spain and England also find some support among the fans. He added that all the 75 clubs of the area have arranged TV sets to watch the matches.

Hasan Baloch, the coach of the Pakistan Under-14 team that secured the second position in AFC Football Festival in Iran, said fans have waited for four years for the event.

"All the fans are prepared to enjoy something they have waited for four years and they are very excited about it," said Baloch who is a Lyari resident as well.

In Malir, the eastern town of the city, players' posters are in high-demand and flags of different participating countries have already been hoisted by enthusiasts on their roof-tops.

Brazil is also the favourite team for Malir fans as well and screens are being installed there too for the later stages of the World Cup.

"There are hardcore fans in Malir. They are football fanatics to the point you can witness clashes among fans during their teams' matches," said one fan Sanaullah Asif.

The passion is no less in the other areas of Karachi as well with popular restaurants and sports clubs planning to install screens.

"It would be a fantastic sport gala during the World Cup as there are a lot of passionate fans here too," said Faraz Ahmed, who looks forward to different cafes and restaurants hosting him for the 2010 Fifa World Cup.

Published in the Express Tribune, June 10th, 2010.