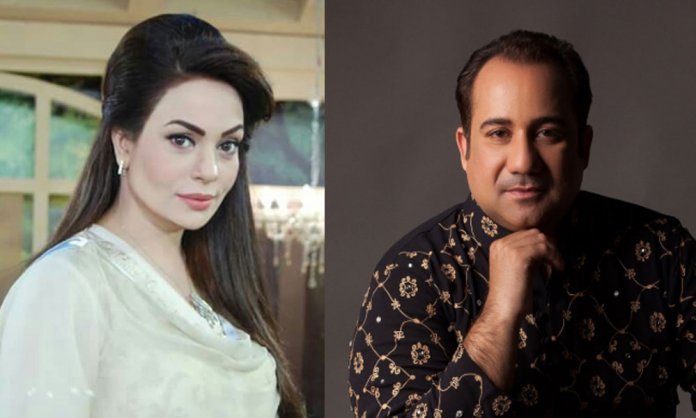 ---
KARACHI: On Tuesday, actor Sadia Imam claimed that she had written the lyrics for  Rahat Fateh Ali Khan's hit singles Jiya Dhadak Dhadak from the 2005 Bollywood movie Kalyug and Zindagi Ye Safar Main Hai from the 2007 Indian movie Life in a Metro.

 The Abhi Door Hai Kinara actor made the revelations in an interview with a private TV channel.




Imam said, "I gave the lyrics to Rahat and the onus of giving me credits depended on his ethical values. Had I been given credits, both the songs would have remained under my name forever."

When the talk show host asked her why she was not credited for her work, the actor disclosed that she is good friends with the singer which is why it did not matter to her.




"Rahat told me that Sadia Ji, I cannot give you credits because he did not show in India that the lyrics were written by a Pakistani," she explained.

The Express Tribune reached out to Khan's management to get his opinion on the matter.




"It is in bad taste that when the whole world is celebrating Khan Saheb's Doctorate from Oxford University, Ms. Imam would bring up something like this, that too after so many years," Khan's business director, Salman Ahmed told The Express Tribune.

He further added saying that they will take the matter to court if need be. "Even if she still claims that she is the brain behind penning the songs then she is more than welcome to present any proof, confirming the same."




On the other hand, a quick internet search shows Sayeed Quadri as the lyricist for Jiya Dhadak Dhadak Jaye and Coke Studio producer Rohail Hyatt and Faisal Rafi as the co-composers while Zindagi Yeh Safar Hai lyrics are attributed to Sachin Gupta. However, Imam reiterated that she is the original writer of both the songs.

Rafi was quick to deny the actor's claim as well and shared that he was a part of the song-making process througout. "These are baseless claims. The entire song was made in my presence. Rahat came up with the melody in a taxi. We then went to Rohail's place where he arranged and made the music for the Bollywood hit single."

Revealing the name of the actual man behind writing the song he said, "Lyricist Asim Raza was then called in to pen down the lyrics which he did then and there, while sitting at Rohail's place."

Have something to add to the story? Share it in the comments below.