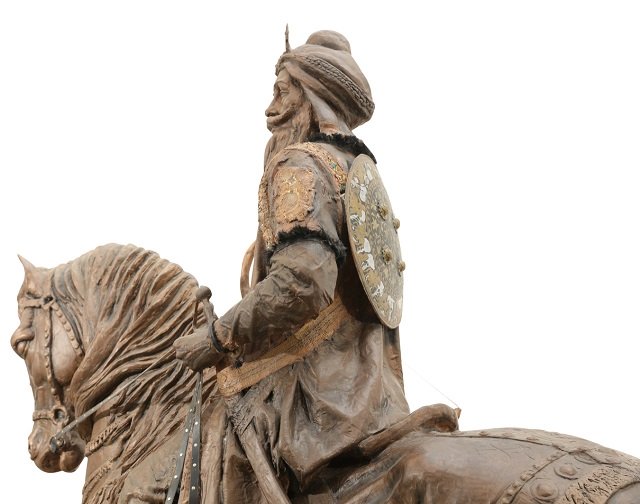 ---
LAHORE: A life-size sculpture of Maharaja Ranjit Singh will be unveiled on Thursday outside the Sikh Gallery at Lahore Fort on the eve of his 180th death anniversary.

The life-size statue of the Sikh Punjabi ruler is a first of its kind in Indo-Pak and routine maintenance will be carried out.

"The sculpture is beautiful and very realistic with all characteristics of Maharaja Ranjit Singh," the creator of sculpture told Express News.

In the sculpture, Singh is sitting on his favorite Arabic horse named Kahar Bahar which was a gift by Dost Muhammad Khan. The horse was very intelligent and was Singh's favourite horse.

The sculpture was made under the supervision of Faqir Khana Museum Director Faqir Saifuddin. "This sculpture is a tribute and homage to the son of the soil," he said.

Lahore finally completes the renovation of Sikh heritage sites

"The sculpture is finished in fiber cold bronze material and matchless in its making when compared to other statues of Maharaja Ranjit Singh in this region.", he added. The sculpture was completed in eight months.




Sikh Heritage Foundation UK Director Boby Singh Bansal, who commissioned the sculpture called it "history in making", adding that they are "are extremely happy to be a part of this historic moment".

Saifuddin called the unveiling of "a proud moment" for him. He added that it was personally important because three members of his family were emissaries to Maharaja Ranjit Singh.

"Lahore has had rich cultural and religious diversity for centuries and Ranjit Singh was one important part of it," he added.

Around 465 Indian Sikh pilgrims are expected to come to Lahore at Gurudawara Dera Sahib, the Samadhi of Maharaja Ranjit Singh where he was cremated, to attend the 180th death anniversary on June 29.

Fakir Khana Museum has also launched 180 limited edition bust sculptures of Maharajah Ranjit Singh for art connoisseurs and those interested in the history of Punjab.