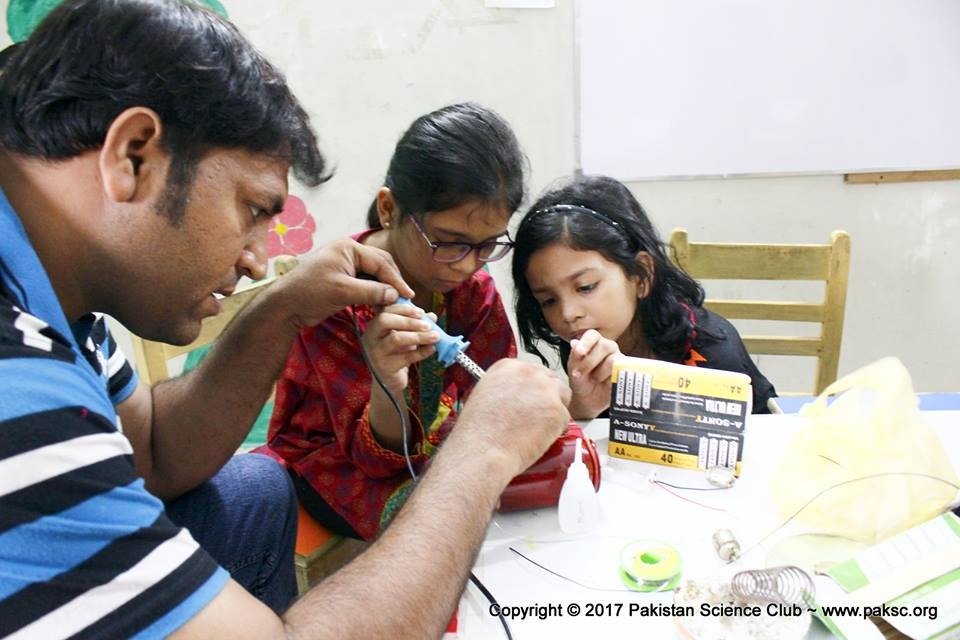 ---
KARACHI: Our education system isn't designed to encourage creativity and curiosity. Embedded in our culture is reverence and conformity to authority, to tried and tested methods while individuality and creativity is often trampled on. Particularly in schools, where only those who can fall neatly into the system and excel at it, are encouraged to shine. The misfits are weeded out. Abdur Rauf, a C grade student throughout his academic life, albeit with a keen interest in science and a fascination for technology, seeks to challenge that.

In 2009, he founded the Pakistan Science Club. Ever since, over 50,000 children and youngsters have been provided with a space where their curiosity is allowed to bloom. They are not judged by their educational standing but rather their dedication to science, their passion for experimentation and their willingness to learn. The only requirement to be a member of the Pakistan Science Club is to have "passion, love and desire for science and technology," reads their website. The club has facilitated five young scientists to present their inventions on international platforms and receive global recognition.

Money may feed the body but the soul calls for care and attention

Speaking to The Express Tribune, Rauf tells his story.

Breaking the mould

Rauf may have been an average student but he spent his childhood getting minor injuries because experimenting with science was his only hobby. Electric shocks while playing with wires and capacitors, burn injuries while attempting to make rockets from fire crackers, stood testament to his interests in physics and chemistry even if his report cards did not reflect his scientific aptitude, he says.

According to him, it is tragic that effective platforms in the fields of Science, Technology, Engineering and Mathematics (STEM) weren't available for children like him. He founded the Pakistan Science Club in order to counter the sense of failure that society imposed on him. Rauf's friends, who believed in him, helped him launch the club.

While acknowledging his privilege - his father's business was doing well so he didn't have financial issues to reckon with and could devote all his time to the club - Rauf's success couldn't be achieved without some sacrifices. He would spend little on himself and instead used all his savings and resources to promote the club. He distanced himself from friends and family, sports and other interests, and gave the club all his time and energy. Ten years later, he is reaping the rewards by seeing young children avail opportunities he never had for himself.

Building a scientific community

Today, Pakistan Science Club has over 5,000 registered members from across the country. The members are encouraged to use social media to promote their experiments, theories and inventions. The club's YouTube channel and Facebook page is frequented by local and global STEM enthusiasts alike. Roughly 20 to 30 million people benefit from the activities of the club on social media.

At the local level, the club has been organising workshops and experimentations in schools and through summer camps all over the country. He introduced the concept of a 'makerspace' - a collaborative work space geared for making, learning, exploring and sharing that uses high tech to no tech tools, creating an atmosphere of creativity and innovation. Under this programme, two schools in Karachi now have laboratories with essential tools and machines, allowing students to practically engage with scientific instruments and experiment with ideas and creations.

The club has also been working on promoting STEM in schools with a special curriculum geared towards encouraging children in these fields. This has allowed for a scientific community to grow in Pakistan especially among young children.

Rauf believes scientific research is inspired by the issues around us. He urges youngsters to look at collective issues and try to find solutions using local resources as opposed to readymade or imported ideas. Recently, the club brought American-based Curiosity Machine's AI Family Challenge to Pakistan and a 10-year-old from Karachi presented his invention, the 'Cavity Crusher' in front of experts in Silicon Valley. Child scientist Yasir, troubled with his own dental troubles was inspired to design a system that encouraged healthy oral habits among children and received much acclaim for it.

The club is also part of the British Council's Development Inclusive and Creative Economies's (DICE) fellowship programme. Another three children from the club will be participating in a competition in China next month.

Challenging the system

Rauf aims to change mindsets with the Pakistan Science Club. He opines that the outdated model of education implemented in Pakistan is the biggest obstacle in the way of scientific inquiry and creation. Children's imagination and individuality is restricted as they are pushed towards conventional methods of learning. Instead of being invited to ask new questions, they are taught the same tried and tested ways of learning - forced to rote learn from books, reproduce answers expected of them and discouraged from engaging with the world around them through their own lens.

This stifles creativity and reinforces the idea that the student's worth is determined by the grades they score in examinations. Parents and teachers use the marks on report cards to judge the student's ability and talent. However, one size doesn't fit all and the club inspires children to engage with STEM subjects such that they learn through practical experience and are allowed to drift away from the textbook and reach their own conclusions. The children are encouraged to think analytically, creatively and innovatively. Research and experimentation is given precedence while at the same time students' confidence is boosted as they are also shown ways that their ideas can be useful or profitable. This is of course done with the support of teachers and parents who see value in this method of teaching.
None of this is to deter them from their studies. It is simply a different approach.

Rauf says he has spent the past 10 years trying to break away the mindset of rote learning and rehearsed answers.

Rauf matriculated from Bluebells High School in Korangi, did his intermediate from Korangi Degree College and undergraduate from Islamia College. In 2008, he completed his masters in marine zoology from the University of Karachi. He says when he was applying for jobs or for his higher studies he was faced with same approach that privileged grades and report cards over scientific knowledge and technical expert. After his masters, he began teaching physics, chemistry and biology and would come up with experimental ways to impart scientific knowledge among his students. This meant that his students were more interested in their studies as they could see practical implementations of what they were being taught in the syllabus. According to Rauf, it takes a lot to break the pattern of rote learning instilled in children and while his efforts have borne fruit, the rigidity of the old method still prevails in schools and colleges.

Sheviews a world of opportunities for Shepreneurs

He wishes to establish centres of the Pakistan Science Club in every city of the country. He presented a list of recommendations to former prime minister Shahid Khaqan Abbasi and hopes to present the same to the incumbent Science and Technology Minister Fawad Chaudhry. Rauf is heartened by Chaudhry's interest in establishing more STEM schools in the country, and says that like India we need to invest in STEM education at the school level.

It isn't the lack of resources or equipment that prevents the promotion of scientific study in our country but the conventional system of education and out dated approach, he says giving the example of his own four-year-old and seven-year-old daughters who join him in conducting scientific experiments. The laboratory is also the place of play and entertainment for them. Further, Rauf is aware of the skewed gender ratio of children in STEM. He says the Pakistan science club has 70% male members and only 30% female, and believes that this ratio needs to change, and reflect the male to female ratio in the country's population.