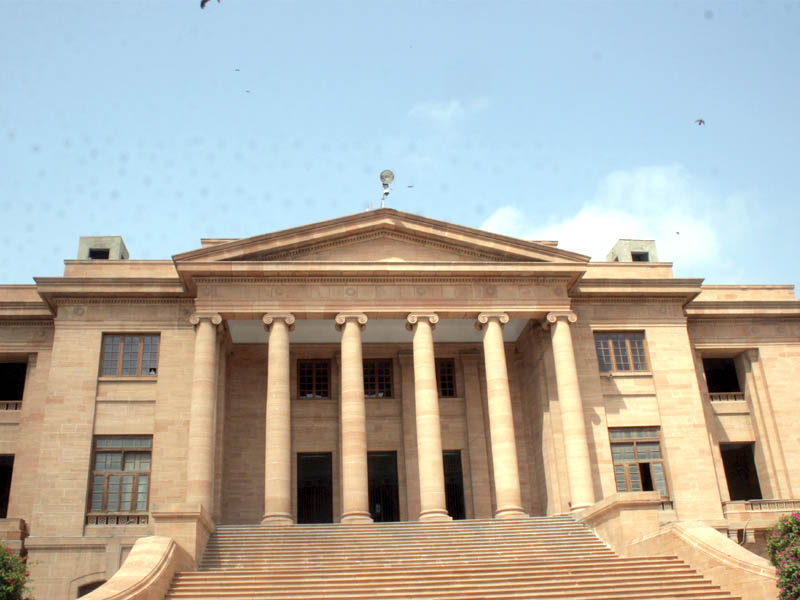 ---
KARACHI: The Sindh High Court (SHC) on Thursday once again ordered the ministries of defence and interior to submit replies by the next hearing over the pleas filed by the convicts challenging the death sentences awarded to them by military court in Safoora Goth killing case.

A two-member bench comprising Justice Syed Hasan Azhar Rizvi and Justice Muhammad Saleem Jessar was hearing the pleas on Thursday filed by the convicts. The SHC had sought replies from the federal ministries but both the ministries failed to comply with the court's orders.

Military court had awarded capital punishment to  Saad Aziz, Tahir Minhas, Azhar Ishrat, Hafiz Nasir and Asadur Rehman to death.

Petitions filed by the convicts before the SHC argued that the families of the convicts aren't being informed about the details of the case. They prayed that the families be allowed to meet the convicts and the orders for death sentences should be suspended. The convicts should be given the opportunity to file the petitions in the light of Supreme Court's orders.

Hearing adjourned

The same bench adjourned the hearing of plea regarding the provision of security, filed by Pakistan Peoples Party (PPP) Chairman Bilawal Bhutto Zardari, due to absence of lawyers.

The bench remarked that the hearing will be held after summer vacations.

The reply submitted by federal government maintained that provision of security to citizens is the responsibility of provincial government after the 18th Amendment in the Constitution of Pakistan. The ministry of interior had written to all the provinces about the security of Bilawal Bhutto Zardari. Islamabad IG will be providing the security services to Bilawal when he enters federal territory.

The plea maintained that Bilawal faces serious security threats according to the reports of intelligence agencies and his security wasn't under the provincial government's responsibility but rather the responsibility of the Centre as he also travels outside Sindh.

Police fund case

Another bench of the high court comprising Justice KK Agha and Justice Omar Sial ordered the prosecutor of National Accountability Bureau (NAB) to appear in the court with preparation under any circumstances on June 25, while hearing pleas pertaining to millions rupees of corruption in police funds.

The two-member bench was hearing the appeal filed by NAB against the 10 years of imprisonment of former Assistant IG Tanveer Ahmed Tahir and acquittal of Fida Hussain in the corruption cases by the accountability court. Justice KK Agha remarked that Tahir has been sentenced and Hussain has been acquitted apparently for the same accusation.

The court told the NAB's prosecutor to appear in the court with preparation on June 25 and remarked that the court will decide after hearing the arguments.

According to NAB, the accused committed millions rupees corruption in the funds on account of petrol. The accountability court sentenced Tanveer Ahmed to 10 years of imprisonment and acquitted Fida Hussain.

Published in The Express Tribune, June 14th, 2019.