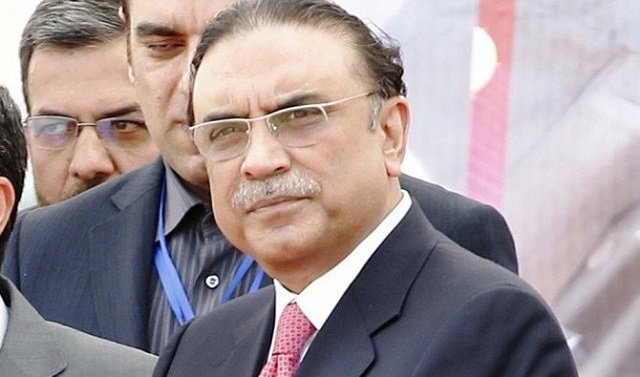 ---
KARACHI: Amid protest by the opposition protest, Sindh Assembly on Wednesday passed a resolution condemning the arrest of the Co-chairperson of the Pakistan Peoples Party (PPP),  Asif Ali Zardari, and demanded his release without any delay. The resolution moved by PPP MPA Jam Madad Ali and signed by dozens of others treasury members called the National Accountability Bureau's (NAB) action as "witch hunt" at the behest of forces who want to "silence" the voice of truth.

"The cases by NAB are patently fabricated and politically motivated. This assembly recognises the unmatched services and personal sacrifices made by Asif Ali Zardari for the restoration of democracy in Pakistan" the resolution said.

During their fiery speeches against NAB and Prime Minister Imran Khan, the PPP lawmakers said they would not succumb to pressure and would continue supporting democratic dispensation in the country.  During the speeches, the MPAs belonging to Pakistan Tehreek-i-Insaf (PTI), Muttahida Qaumi Movement (MQM) and Grand Democratic Alliance (GDA) continued their protest chanting slogans against Zardari and Sindh government.

Zardari arrested in fake accounts case

The MPAs on treasury benches, especially women members, responded by shouting "Go Niazi go." Despite the speaker's repeated requests to maintain decorum of the House, the opposition members holding placards in their hands inscribed with different slogans continued creating pandemonium. "I have not seen such opposition leader in my career," said speaker Agha Siraj Durrani while addressing to Firdous Shamim Naqvi who was leading opposition in the house.  PTI parliamentary leader Haleem Adil Shaikh stood up at this seat with his shoes on, which irked Durrani. "This is the house once chaired by founder of nation Qauid-e-Azam. It looks you don't deserve to be in this  house. How have you stood on the seat with your shoes on," Durrani said with anger. In response to Durrani's remarks treasury members shouted "shame, shame" criticising Shaikh.

"Gali gali mein shor hai, Zardari chor hai" "no corruption no, go corruption go" were the opposition slogans. "Sheron ka shikare Zardari, sab pe bhare Zardari," were the slogans chanted by PPP MPAs.

During the protest, speaker gave floor to a few PPP MPAs to speak on the resolution.  Minister for Women Development Shehla Raza criticized PTI government for giving amnesty to Imran Khan's sister who according to Shehla paid penalty on her undeclared property worth billions of rupees in Dubai.  "Imran Khan was begging for money to establish Shaukat Khanum Cancer Hospital. People want to know how his sister got such a huge property," she asked.  She referred to PTI leaders and its coalition partners who are facing NAB cases and said, "Why action is not being taken against Parvez Khattak, Faisal Vawda, etc who have bungled billion of rupees."

Shehla pointing fingers at protesting opposition members said, "Ye dhobe ke tarah kapre dho rahe hein" (they are washing clothes like washermen). Don't listen to them. They are washing clothes in the house."

Shamim Mumtaz of PPP said that Zardari has spent more than 11 years in prison and all cases against him have proved wrong. "Who will give compensation for the fake cases," she said adding that PPP leaders have rendered sacrifices and would not be deterred by elements who are hatching conspiracies against democracy.

Heer Soho, Makhdoom Mahbook Zaman, Burhan Chandio and others also spoke on the resolution condemning the NAB and lauding the services of Zardari.  After the speech the session was adjourned till today (Thursday)

PPP organises rallies, demos against Zardari's arrest

Earlier, as the session started with speaker Agha Siraj Durrani in the chair. The opposition leader Firdous Shamim Naqvi requested speaker to allow him to say something on point of order. Speaker said, "Let me congratulate members on Eidul Fitr." Speaker congratulating members said, "You celebrated Eid outside and I spent it in jail." He suggested lawmakers to bring some gifts or sweet for poor prisoners and sometime celebrate Eid with them in jail too.

As he gave floor to opposition leader, Naqi drew his attention toward requisition of assembly and said, "Deputy speaker has summoned this session on an application submitted by PPP MPAs who were even not present in the city. I have come to know that the application has been submitted with fake signatures of your MPAs in order to meet requirement to requisition this session, he said adding, "When I inquired about it and went to verify it, the secretary Sindh Assembly did not cooperate." He said "Around Rs5 million are spent daily on a session. I wonder why this session has been summoned.  This is illegal session."  Responding to him speaker said, "It is not illegal. This is my ruling so please do not debate on it."  On his remarks, opposition members protested.

Published in The Express Tribune, June 13th, 2019.