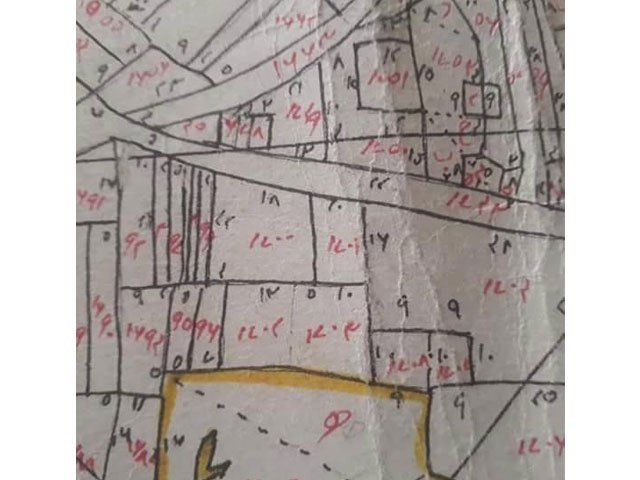 ---
In this day and age of realpolitik in Pakistan, if you're not an Insafian and have criticised the government's 'awam-dost' policies on the media or in your social circle, you are sure to be labelled a patwari.

But in reality, who is a patwari?

A patwari or village accountant is a government official who keeps record regarding the ownership of land.

The Supreme Court of Pakistan, which restricted the role of patwari in sale, purchase and transfer of land in urban areas earlier this year, has once again called for an alternative land record system, terming the prevailing one outdated and corrupt.

The Express Tribune spoke to agriculturalist Mian Asif Sharif in Lahore to know about the patwari system and its origin in the Indian subcontinent. Excerpts:

The Express Tribune: How did the patwari system come into being? 

Mian Asif Sharif: The Mughals established an elaborate revenue collection system during the reign of Emperor Akbar. Land revenue was collected for the rulers by agents, assignees of large areas often termed zamindars (landlords). The assignees were given estates or jagirs as gifts against their services to the rulers such as providing troops for war.

This revenue system was improved and record was consolidated by the British administration in India. Large-scale cadastral surveys were conducted for demarcation of boundaries of individual land holdings. Ownerships were redefined and taxes imposed to run the day-to-day affairs of the British government.

Various categories of revenue officers were introduced, among them the patwaris.




Agricultural lands under the comprehensive land survey were assigned Produce Index Units - a measure of land based on classification and productivity. The objective of this exercise was to introduce a fair and equitable agriculture tax system i.e. a rain-fed farm having low PIU value should not be taxed equal to the canal irrigated land which has a higher PIU value. The PIUs in Pakistan were last updated in 1959.

This land administration system was adopted by Pakistan after Partition.




However, the record, which was once carried in a cloth bag ('basta'), has undergone massive changes.

In the past, a patwari also maintained and assisted the government in the upkeep of 'Girdawari' record – information on crop harvest. This system has been updated and now regarded as Crop Reporting System, which the agriculture department of every province maintains.

The patwari system, at least in Punjab, has almost ended after digitalisation of land record and establishment of the Punjab Land Records Authority. In Sindh, land record has been updated by LARMIS Board of Revenue.

Centres have been established where computerised land record can be accessed, confirmed and certified.

Patwaris are largely ineffective now. However, they are not being forced out of the jobs but are retiring after completing their work age.

ET: There is an impression that the patwari system is applicable in Punjab only. What about other regions?

MAS: Other than the tribal areas, it is effective in all areas that come under the district management system.

ET: People often complain of the highhandedness of the patwaris. Why are they so influential and important, and what are the problems associated with the system?

MAS: This is because they have all the record, the property documents with them. A patwari can withhold the transfer, sale or purchase of your land. They have the authority to make changes relating to ownership, use and taxation in the original land record.

The patwaris are the sole authority to issue copies of land record ('Farde Malkyat'), which are required for many other government-related services i.e. in court cases and obtaining domicile certificates.

This leads to a lack of transparency, inaccuracies and complexities, and thus land disputes.

Many in Pakistan make money through exploitation. This is where the bribe comes in. Patwaris often ask for payment to provide a 'Fard' or 'Jama Bandi' – record of rights in immovable property – without which one is unable to sell or transfer the estate.

ET: Why are documents of my property held with a village accountant? 

MAS: There has to be a place, a government representative who will have the record. In this case, a patwari has the original documentation. We can get a copy of the Jama Bandi after paying a fee (both official and backhander) which ensures that the said property is in one's name.

When you buy a car, it has to be registered with an authority in your name. That authority has an office, a premises like the Excise and Taxation Department of Government of Sindh. The registry proves that you are the owner of that car. Similar is the case with land.

ET: Has the digitalisation of land record in Punjab ended the culture of bribery? 

MAS: Corruption has not yet ended. Dealing with a patwari, who, for many, was just a phone call away, was much more convenient.

Record has been computerised but exploitation is still there.

Underhand dealings still continue besides long queues at the land record authority.

Meanwhile, there are instances where the digitalised and patwari's record have significant differences.

ET: Is there a solution to this exploitation at the hands of a patwari? 

MAS: There should be no interaction between government representatives and the public.

The ownership documents should be accessible on the internet free of charge.

If documents can be accessed from a computerised centre, why can't they be accessed from the internet in the comfort of your home? This practice is also applied in several other countries.

Edited and fact-checked by economist Asim Bashir Khan. More in this web series here