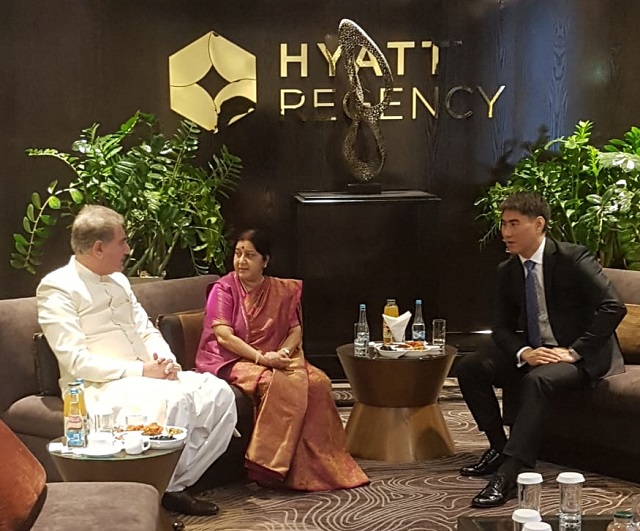 ---
ISLAMABAD: In what appears to be a sign of de-escalation in tensions between Pakistan and India, the foreign ministers of the two South Asian neighbours shook hands with each other on the sidelines of the Shanghai Cooperation Organisation's (SCO) Council of Foreign Ministers meeting in Kyrgyzstan's capital Bishkek on Wednesday.

Shah Mehmood Qureshi and Sushma Swaraj discussed matters of mutual interest during an informal interaction, the Foreign Office confirmed. "Swaraj complained about bitter statements and she also brought sweets so we can speak in a sweeter tone," Qureshi was quoted as saying.

"We've however reiterated our desire for a peaceful resolution of all outstanding issues between the two countries," Qureshi said, recalling that Prime Minister Imran Khan, in his first speech after winning the 2018 elections, had extended an olive branch to the neighbouring country.

FM Qureshi to attend SCO Council of Foreign Ministers moot in Kyrgyzstan

Earlier, the Pakistani foreign minister presented a seven-point agenda at the SCO Council of Foreign Ministers meeting, calling on member countries to curb weapons race.

He proposed developing a regional consensus to arrest the build-up of missile defence systems by individual states or groups of states and stressed the need for keeping outer space free of weapons.

The minister also proposed setting up of a joint fund and an international framework of SCO member states to combat corruption and crime.

"SCO countries need to make collective efforts to meet the present day challenges and achieve sustainable development," he said in his address at the plenary session of the meeting.

"An institutional framework among regional states is important to address common challenges mainly terrorism, poverty and economy through dispute resolution," he added.

"Enduring peace and prosperity in South Asia will remain elusive without good-faith diplomacy and result-oriented dialogue."

The minister observed that conflict resolution was important for peace and stability in the South Asian region.

"South Asia lags behind other regions in terms of regional cooperation, economic integration and connectivity and that has resulted in formidable challenges including poverty, illiteracy and disease."

For an integrated economy, Qureshi called for setting up an SCO development fund and an SCO development bank and also finalising proposals for trade in local currencies.

Referring to the geo-strategic location of Pakistan, the minister said the China-Pakistan Economic Corridor (CPEC) Project would help in further promoting links in the region.

"The geography of the SCO region provides an opportunity for air, land and sea links connecting South with Central Asia, Middle East with China, Europe with the Far East, and Eurasia with the Sea," he noted.

The minister said leveraging the SCO's institutional capacity could synergise various connectivity initiatives including the Belt and Road Initiative, the Economic Cooperation Organisation and the Eurasian Economic Union.

Condemning terrorism in all its forms and manifestations including state terrorism against people under illegal occupation, the foreign minister stressed the need for addressing its root causes.

"Pakistan is among the few countries which have successfully countered terrorism," he said.

"We are ready to share our experience and expertise with the SCO friends in dealing with terrorism."

Qureshi calls for 'collective effort' to tackle challenges at SCO moot

On peace in Afghanistan, Qureshi reiterated that Pakistan would continue to facilitate the Afghan peace process owned and led by its own people.

In a clear reference to India, he said: "Pakistan has given a message of peace by opening the Kartarpur Corridor for the Sikh community."

He also suggested strengthening the SCO Youth Council to promote cultural understanding and said Pakistan looked forward to joining the council soon.

The foreign minister said there was a need to discuss the challenges confronting sustainable growth, environment and collective security when the leadership of SCO member states would meet in June.

He pointed out that the SCO region representing 42% of humanity, 23% of the world's land mass and 22% of the global nominal gross domestic product was imbued with the "Shanghai Spirit", a vision for the way forward.

"Pakistan is a product of centuries of amalgamation of foreign and local influences along with other SCO states that have been the epicentres of civilisation.