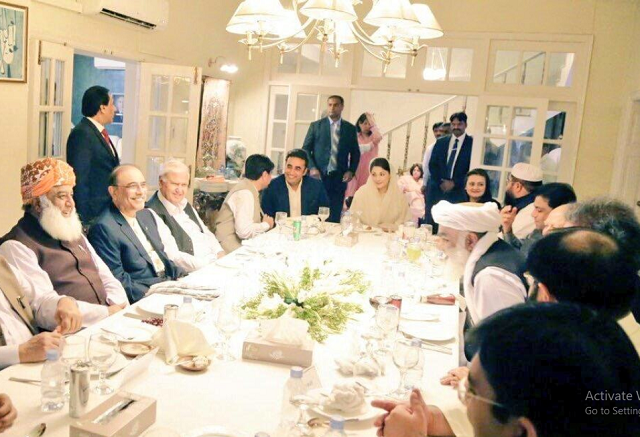 ---
With leaders of major opposition parties coming together for an Iftar-dinner held by Pakistan Peoples Party (PPP) Chairman Bilawal Bhutto-Zardari on Sunday sending Twitterati into a frenzy with certain quarters heralding the event while others castigating it.

Pakistan Muslim League-Nawaz (PML-N) vice-president Maryam Nawaz, PPP co-chairman Asif Ali Zardari, Jamiat Ulema-e-Islam (JUI-F) chief Maulana Fazlur Rehman, Jamaat-e-Islami (JI) senior leader Liaquat Baloch, Qaumi Watan Party (QWP) Chairman Aftab Sherpao and Pashtun Tahafuz Movement (PTM) leadership were all in attendance for the event organised at Zardari House in Islamabad.

Prime Minister Imran Khan hit out at the opposition by saying: "Today certain people have gathered for an event but we really know that it is because of them that Pakistan has not moved forward."

Opposition puts up 'grand show' at Iftar-dinner in Islamabad

He remarked while speaking at a fundraising Iftar for the Shaukat Khanum Memorial Hospital in Islamabad.


While the corrupt forces of status quo unite to save their sinking ships, PM Imran Khan stands tall with the future of Pakistan, those whose future and lives he has committed to serve.#ابو_بچاؤ_افطار_پارٹی pic.twitter.com/6UayRnGeCv

— PTI (@PTIofficial) May 19, 2019


This was the first time Bilawal and Maryam met face to face as key leaders of their respective parties.

Social media users lauded the two leaders as the new faces behind the two biggest opposition parties in the country, with some even saying that they had now taken the mantle from former premiers Nawaz Sharif and Benazir Bhutto.

PPP Senator Sherry Rehman spoke out saying that"Why such a storm in a teacup over our Iftar? Dinner has barely been served and the government representatives are already losing sleep?"


Why such a storm in a teacup over our iftar? Dinner has barely been served and Govt reps are losing sleep? #IftarDiaries

— SenatorSherryRehman (@sherryrehman) May 19, 2019


While PPP MNA  Nafisa Shah tweeted that it is difficult to understand how a simple Iftar has caused such a storm amongst the Imran Khan-led Paksitan Tehreek-e-Insaf (PTI).


Don't understand why an iftar hosted by #PPP leadership for the opposition has got the whole #PTI #jingbang so jittery. #PTIAikIftaarKiMaar @BBhuttoZardari pic.twitter.com/fKB0JCSZMz

— Nafisa Shah (@ShahNafisa) May 19, 2019