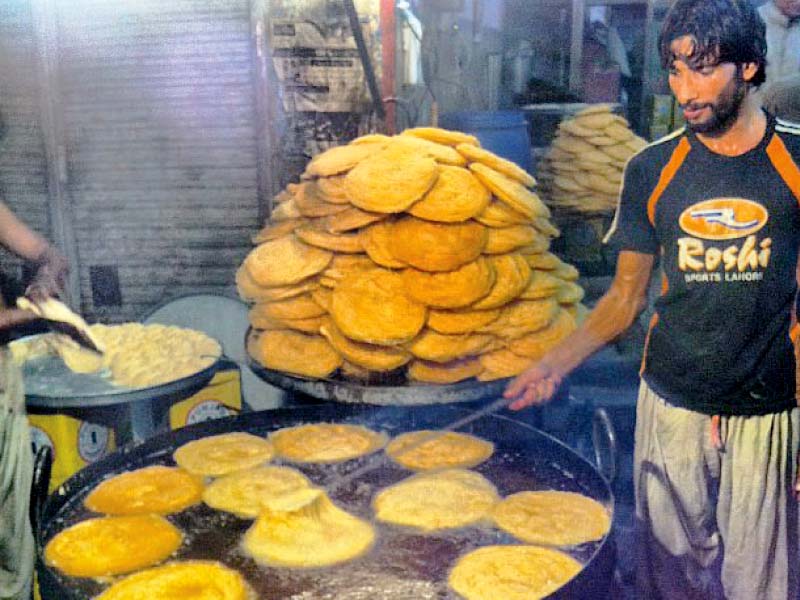 ---
MULTAN: Special dishes are prepared by women for Sehr and Iftar which most popular among people of all age groups.

Doli Roti and dal moong, a mixture of different cereals, are two of the many dishes popular among locals for both Sehr and Iftar. Doli Roti is a special fluffy bread made with a variety of ingredients. "I have come here to buy doli roti, dal mong and grains for Iftar meal, as it is Friday today," said Ahsan Riaz at a Pak Gate shop.

"We love these desi dishes as paratha and curry are common at breakfast at our homes, other than Ramazan." he added.

Commonly known as "kachi lassi", the drink is very popular among people at Sehr because it keeps from getting thirsty during fast. Chatay ki lassi, a popular name for kachi lassi is also available in markets during Sehr. Prepared in huge pitchers, a glass of lassi is available for Rs30.




Farzana Bibi, a housewife said yoghurt was part and parcel of the dining table in summers, especially in Ramazan. "We consume it almost daily at Sehr," she said. "Also, pheoniyan prepared in milk are my family's favourite dish."

As the people break their fast in the evening, sattoo is also included in the special desi drinks. 'tukh malanga', popularly known as 'teel ka tella' is also a fantastic desi drink. "Our kidneys get dehydrated because of water deficiency during fast. I always ask my mother to mix 'tukh malanga' in different beverages," said Nimra Noor, a medical student. She said sattoo was also a refreshing drink in summers, adding that it is also consumed in Ramazan.

Muhammad Khalil, a Sadar Bazaar resident, said they consumed 'siri paey' and 'bong' during Sehr. The dish is very popular with our family, he added.

Published in The Express Tribune, May 11th, 2019.
COMMENTS
Comments are moderated and generally will be posted if they are on-topic and not abusive.
For more information, please see our Comments FAQ