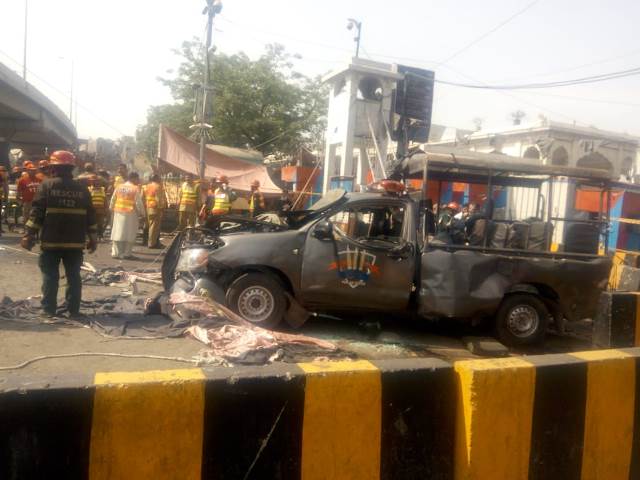 ---
The death toll of the bomb blast, targeting police outside the famous Data Darbar shrine in Lahore, reached 12 after another injured succumbed to his injuries, Express News reported on Friday.

Mudassir, a civilian who was wounded in the May 8 terror incident, became the latest victim. He was a resident of Lohari Gate.

Terror revisits Data Darbar in holy month

The powerful blast, a day after the beginning of Ramazan, went off at 08.44 am near one of the gates of the Data Darbar. The shrine is one of the largest shrines in South Asia and attracts tens of thousands of visitors every year.

The bomber is said to be a 16-year-old boy wearing shalwar kameez and a jacket. Footage from a nearby CCTV camera shows the suspect walking across the road to Elite Police van where the blast took place.

The forensic staff and investigators also collected evidence from the blast site including CCTV footages of nearby shops. They were skimming through the videos to know the movement of the suspect and his possible facilitator/handlers. They were also conducting geo-fencing of the area.

Later Jamaat-ul-Ahrar (JeA), a splinter faction of the outlawed Tehreek-e-Taliban Pakistan (TTP), reportedly claimed responsibility for the attack.

This was not the first attack in Lahore claimed by the group. The group also claimed responsibility for all the four previous attacks that have taken place since February 2017. These attacks include February 2017 Mall Road attack; April 2017 Bedian Road blast on a census team; July 2017 Ferozpur Road blast on a group of Anti-Riot Force officials and Raiwind Road blasts targeting a police post.

Police still clueless about major suicide blasts in Lahore

The Data Darbar was also targeted in 2010 when a suicide bomber had killed more than 40 people. Since then it is heavily guarded. An attack in Lahore in March 2018 had left nine people dead, while a major blast had targeted Christians celebrating Easter in a park in 2016. Over 70 people were killed in the attack.

Meanwhile, an investigation into the latest terror attack was still underway.