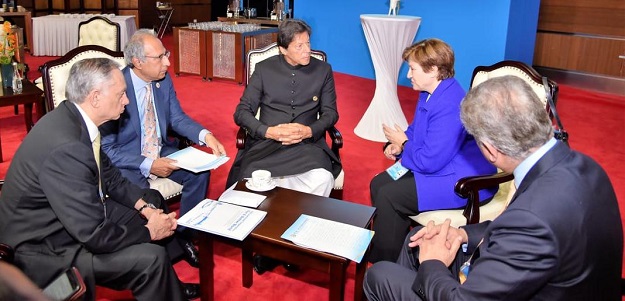 ---
BEIJING: World Bank Chief Executive Officer (CEO) Kristalina Georgieva on Friday pledged to further strengthen cooperation with Pakistan in areas of disbursements programme lending and the provision of guarantees for raising external funds.

During a meeting with Prime Minister Imran Khan on the side-lines of the second Belt and Road Forum (BRF) in Beijing, Georgieva was apprised about the recent steps taken by the government to improve the economic and fiscal situation in the country.

The prime minister appreciated the role played by the World Bank in regional connectivity, poverty alleviation, financial management, provisional projects, Dasu Dam and other infrastructure projects and ease of doing business in Pakistan.

He also informed the World Bank CEO about the socioeconomic uplift measures taken by the Pakistan Tehreek-e-Insaf (PTI)-led government and the creation of "Ehsaas" – a social welfare programme for the people.

Prime Minister Imran Khan also held a meeting with Managing Director of the International Monetary Fund (IMF), Christine Legarde, in Beijing and discussed matters of mutual interest, according to a statement.

Before arriving in China, Prime Minister's Adviser on Finance Dr Hafeez Shaikh held a meeting with World Bank Country Director Patchamuthu Illangovan and discussed with him the ongoing projects being supported by the Bank.

The adviser had emphasised the need to expedite finalisation of new financing before the end of fiscal year 2019. He also assured the country director that all approvals would be expedited to ensure timely disbursement.

Also on Friday, Prime Minister Khan held a meeting with Tajik President Emomali Rahmon in Beijing. During the meeting, Khan reiterated the importance Pakistan attached to the closer ties and enhanced collaboration with Tajikistan in diverse fields.

The two leaders also discussed matters relating to connectivity and energy cooperation. They exchanged views on political relations, high-level exchanges, trade and economic interaction and regional situation.

They also reviewed the progress of Central Asia-South Asia (CASA)-1000 project and resolved to ensure its timely completion. The two sides agreed to intensify bilateral exchanges to further boost bilateral collaboration in the field of energy and other areas.

Later, speaking at a luncheon hosted by China-Pakistan Friendship Association and International Cultural Communication Centre, Khan said that Pakistani nation and government fully supported the multi-billion-dollars China-Pakistan Economic Corridor (CPEC) project.

The prime minister noted that Pakistan and China cooperation has diversified under the umbrella of the CPEC. "Initially the corridor project focused on road infrastructure and energy projects but now we are taking it towards cooperation in the fields of agriculture and industries," he said.

He said Pakistan sought Chinese investment not only in the special economic zones to be set up under the CPEC but also for the reallocation of certain industries. "This mega project [CPEC] has helped not only attract investment from China but also other countries," he added.