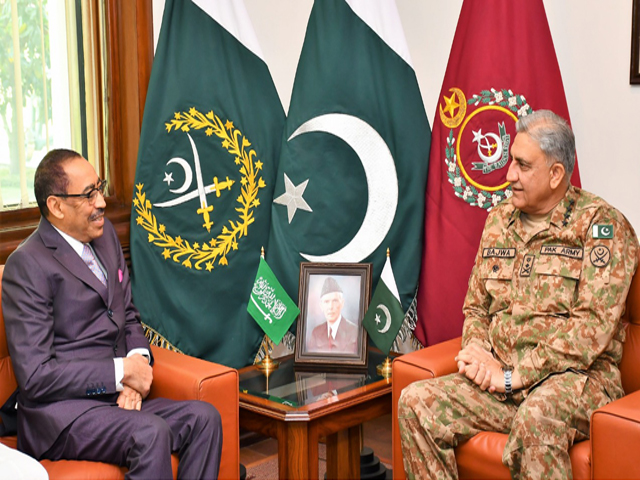 ---
Saudi Arabia's Assistance Minister of Defence Muhammad Bin Abdullah Al-Ayesh discussed regional security situation among other 'matters of mutual interest' with Army Chief General Qamar Javed Bajwa at GHQ in Rawalpindi.

"During the meeting views were exchanged on issues of mutual interest, including defence and security cooperation between both the countries and overall regional security situation," the Inter-Services Public Relations (ISPR) said in a statement on Tuesday.

The meeting comes a day after Pakistan's Ambassador to Saudi Arabia Raja Ali Ejaz met Saudi Minister of State for Foreign Affairs Adel al Jubeir at his office in Riyadh, when Prime Minsiter Imran Khan was visiting Iran.

Opposition slams Imran for saying Pak territory used to carry out attacks in Iran

Pakistan maintains cordial relations with Iran and Saudi Arabia – the regional rivals, who are supporting opposing sides in the conflicts in Syria and Yemen as well as different political factions in Iraq and Lebanon.

Meanwhile, Saudi Arabia's foreign minister on Tuesday welcomed a US decision to end all Iran sanction waivers by May, saying it was a necessary step to halt Tehran's 'destabilising' policy in the region.

"Saudi Arabia fully supports this step taken by the United States as it is necessary to force the Iranian regime to end its policy of destabilising stability and its support and sponsorship of terrorism around the world," Ibrahim al-Assaf said in comments carried on state media.
COMMENTS
Comments are moderated and generally will be posted if they are on-topic and not abusive.
For more information, please see our Comments FAQ