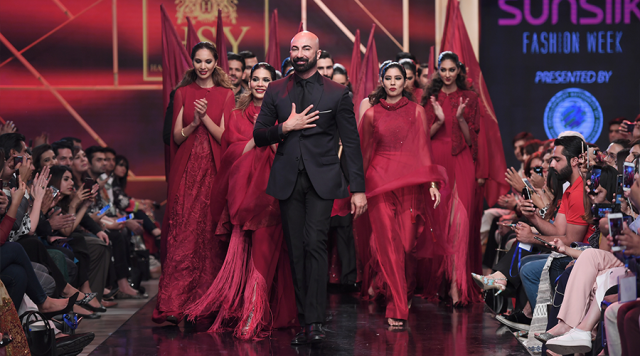 ---
For 10 years Sunsilk has given a new meaning to the glitz and glamour of fashion in Pakistan. This year, too, Sunsilk in collaboration with the Pakistan Fashion Design Council continued to be part of the fashion extravaganza with the aim of bringing contemporary fashion and hair trends to life, while opening possibilities for those who wish to pursue their careers within the fashion industry.

PSFW '19 commenced on a high fashion note on the 11th of April, 2019, and it celebrated fashion and hair trends for two more days at the Nishat Emporium Hotel in Lahore. This year at the PSFW, the inimitable element was the blue carpet concept which took everyone by surprise and truly added beauty to the fashion spectacle.




Although, it was another consistent year of the high street prêt a porter platform where all the A-list designers showcased indigenous craft by amalgamating it with fresh techniques and cuts, but what's praiseworthy is that this year's fashion runway intended to inoculate fresh and young energy by paving more way for upcoming designers than ever before.

Sunsilk, being the country's leading beauty hair brand and a trendsetter in hairstyle juxtaposed perfectly with the bold and aesthetic designs of the awe-inspiring collections of the young and experienced designer collections. Moreover, it competently communicated to the fashion world that fashion is incomplete without being paired with unique, chic and trendy hair.


Fashion in Pakistan is progressing and even this year there was no exception with Sunsilk making sure that their hair game is strong enough to add an extra oomph to the sleek outfits. The ramp witnessed diverse and stunning hairstyles each day paired with distinctive looks that crafted a momentum for bold looks in the fashion industry. The ramps of PSFW gave us around-the-clock insight into what the fashionistas, designers and celebrities are excavating for in the upcoming summer season.




Renowned and upcoming couturiers showcased their exuberant collections at all three days for both, men and women. It included Zara Shahjahan, Sania Maskatiya, Hussain Rehar, Yahsir Waheed and Fahad Hussyn, Rici Melion, Sameer Karasu, Zasimo and Hana, Republic by Omar Farooq, Chapter 2, Almirah , Khaas , Sana Safinaz, Saira Shakira and Kamiar Rokni.




Keeping the tradition of encouraging new designers 'The Rising Talent' segment brought fresh shortlisted young artisans Zeeshan Mohy-ud-din, Hafsa Mahmood and Mahnoor Azam to the prestigious stage for the first time. These talented individuals were shortlisted from a list of 24 fashion students in Pakistan.




Looks cannot be completed without perfect hairstyles; therefore it's mandatory to highlight the master who adorned models with captivating hairstyles that stole everyone's hearts at the PSFW. Bringing in the hottest hair and makeup trends, these looks were created by none other than Nabila's Pro and N Gents, Nabila's Salon in collaboration with Sunsilk.




Through its partnership with PFDC, Sunsilk continues to show its support for the fashion industry. Unilever Pakistan Limited's Marketing Director for Beauty and Personal Care, Asima Haq stated, "Over the years, Sunsilk has established itself as a beauty brand that helps young Pakistani girls be confident. This year the brand is moving one step forward and opening up more possibilities for young girls who aspire to be part of Pakistan's fashion industry through our digital platform".




This time around Sunsilk raised the bar high by initiating a unique motto which buzzed heavens all across the social media. The brand invited several online influencers and divas to express their passion and concern for the fashion industry in Pakistan. People couldn't stop praising the brand for their efforts.

https://www.instagram.com/p/BwNJDMdhUzM/

Let's have a look at the runway attractions that became the talk of the town:

Sunsilk Pop-up Salon

The Sunsilk Pop-up Salon became one of the busiest attractions present at the fashion week. Sunsilk gave attending influencers as well as prominent celebrities and media members including stylists, fashion influencers and key buyers a chance to experiment with their hair at its quirky and edgy pop-up salon curated by RAKA Events. A team of highly-trained professionals treated their guests with marvelous hairstyles prior to the event.




Everyone got their hair styled according to varying contemporary trends, may it be big hair up-dos or funky braids. This added an extra oomph to the fashionable ensembles that they wore. From straight hair to curls and braids, the brand glammed up everybody in the house. The overall look spoke volumes about the fashion statements that are in line with Sunsilks 'Let Hair Do The Talking' and 'Fashion is You.'




Sunsilk Fashion Edition 2019

This year, Sunsilk made it way bigger than we ever imagined it to be. The hair care brand collaborated with some of the biggest designers and high street names to launch the Sunsilk Fashion Edition Shampoo range.




Seven life-size Sunsilk Fashion Edition bottles, designed by seven illustrious designers under the overarching 'Fashion is you' theme, were also displayed at the exhibition area of the venue, serving as an interesting photo opportunity for attendees.




Sunsilk Customised Fashion Edition Bottle

Well, when we said Sunsilk made it big, we meant it. Sunsilk created a booth where all attendees got the opportunity to get their hands on a personal bottle of their own. Guests had their images taken with a present prop by a professional photographer. The picture was then printed on a sticker and placed on a bottle on Sunsilk Black Shine shampoo and was ready to be taken home. Who doesn't love customised gifts, especially if you get to be featured on it! Kudos for the creativity Sunsilk.




#FashionIsYou Photo Wall

Another popular spot at the PSFW '19 was the Sunsilk #FashionIsYou photo-wall where many guests were seen clicking and uploading thousands of photos using the creative wall.




It was cool to witness how the viral hashtag and the myriad photo booths were customised with different designers! Our favorite pose was to take a picture with huge bottles of our favorite Sunsilk shampoo.




With the magic in the air buzzing all night long, PSFW'19 was surely an affair to remember. Not only were the top notch Pakistani designers, models and celebrities seen taking the ramp by storm but Sunsilk also played a huge part in making this event flawless and cherishable.

Sunsilk Pakistan won our hearts with the survival bags filled with lots of goodies they gave to the attendees to make sure they are not exhausted. Those who managed to mark all the items off the Sunsilks checklist also got prizes by the brand.




To sum it up, Sunsilk was at its best during the PSFW and has done an outstanding job! We loved everything about it and can't wait for next year already.