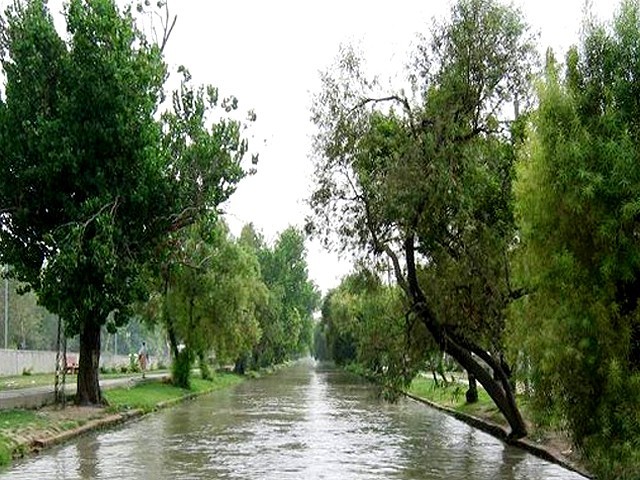 ---
Students, teachers and residents of the federal capital gathered on Monday to plant trees to mark World Earth Day.

The event was organised by the Development Communications Plant saplings, vow to conserve water, manage domestic sewageNetwork (Devcom-Pakistan) with support of Federal Directorate of Education (FDE), Islamabad Devcom centennial Leo Club (IDCLC), Tops and Islamabad Metropolitan Corporation (IMC).

The students and teachers from Islamabad Model College for Girls (Postgraduate) Sector F-7/2 and other participants pledged to protect nature and natural resources around them. Moreover, they pledged to reduce their overall consumption, avoid littering and manage their domestic solid waste.

They will not only save trees but also plant more saplings of plants and will also promote sustainable eco-tourism. They also vowed to conserve water and protect water reservoirs, lakes and natural streams from pollution and by managing their domestic sewage.

The Earth Care Pledge was administered by the IMC Deputy Mayor Zeeshan Naqvi.

The participants also planted saplings of plants donated by IMC. Students also participated in the live painting competition on the theme 'Save Earth – Save Nature – Save Life'.

IMC Deputy Mayor Naqvi said that the youth can play an effective role in maintaining the green nature of the federal capital.

The IMC, he said, has taken up the task to make the city a more comfortable place for the citizens.

However, the increasing stress on the resources of the city makes it difficult for the IMC to cope with the challenges. The federal government needs to pool more resources to make the local democratic system to work more effectively.

Devcom-Pakistan Executive Director Munir Ahmed said that the Earth Care Pledge is aimed at ensuring definite environment-friendly practices by the common citizens.

Published in The Express Tribune, April 23rd, 2019.
COMMENTS
Comments are moderated and generally will be posted if they are on-topic and not abusive.
For more information, please see our Comments FAQ