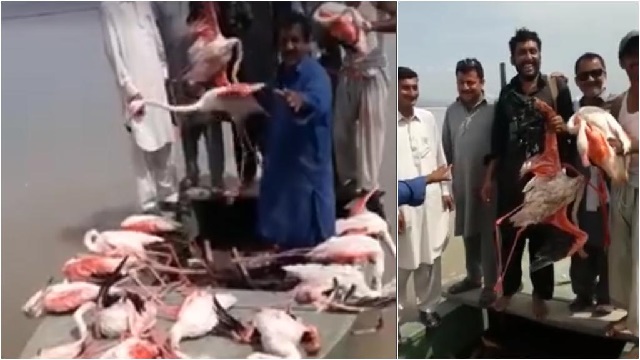 ---
KARACHI: Four men were fined Rs50,000 in Punjab for illegally hunting at least 20 flamingos by using 12-calibre rifles along the Indus River.

Punjab Wildlife Department Director-General Sohail Ashraf said in case the men failed to pay the penalty, they would undergo six months imprisonment.

A Facebook video that went viral on the internet shows several hunters posing and celebrating with bodies of a dozen pink-coloured protected birds near the village of Qamar Mushani in Mianwali district.

"No one can hunt with the same accuracy as we can... we could catch 200 or 250 more of such birds with our bare hands," one of the hunters is heard saying in the video.

[/fbvideo]

The hunters were tracked down by police, in coordination with the Punjab Wildlife and Parks Department, according to Ashraf. "The hunting took place near Qamar Mushani village in Mianwali between April 10 and 12 at a riverine area. Two places were raided, the culprits arrested and presented before the courts on Monday," he said.

Some of the hunters, Ashraf added, however, taking advantage of the katcha area, escaped.

As per a Facebook post of Punjab Wildlife and Parks Department, a special wildlife squad I & II along with divisional Squad Salt Range had conducted the raid.

A Honda bike was also taken into custody and a challan against the hunters booked under Punjab Wildlife Act.




Since they were arrested by the wildlife department, all legal actions were taken under the wildlife act.

"It is for the first time that such an incident involving hunting of the protected flamingos was recorded... after the video I posted went viral the department concerned along with the police raided and arrested the poachers," Safwan Shahab Ahmed, vice president of the Lahore-based Pakistan Wildlife Foundation, told The Express Tribune.

Safwan expressed his concern over the rise in incidents of poaching of migratory species and other wildlife in the country. "Around 70% of avian fauna (birds) are on the decline. We can see that now even the globally threatened Alexandrine Parakeet (Psittacula eupatria) is nationally extinct from Pakistan." he added.

Pakistan is home to two species of flamingos (Phoenicoparrus  sp), the lesser flamingo (Phoenicoparrus minor) and greater flamingo (Phoenicopterus roseus), both are protected year-round from hunting under the Punjab Wildlife (Protection, Preservation, Conservation and Management) Act, 1974.

[/fbvideo]