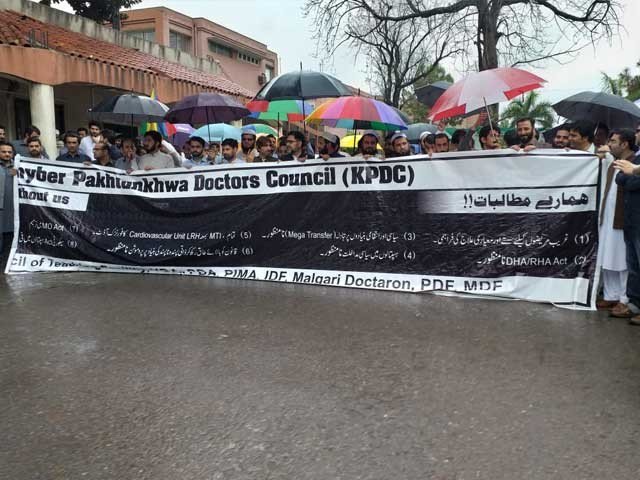 ---
PESHAWAR: Doctors from across Khyber-Pakhtunkhwa came to Peshawar to protest against transfers, proposed reforms in administration of hospitals and the district and regional health authorities.

They marched to the Assembly Square in Peshawar and staged a sit-in disrupting traffic for hours.

Doctors warned of boycotting the out-patient department and later emergency and ward duties besides staring closure of public healthcare services.

The K-P Doctors Council members said they would not allow privatisation of Lady Reading hospital and neither would they accept the corrupt practices under the nose of the province health ministry.

K-P Health Minister Dr Hisham Inamullah arrived at the protest and tried to convince the doctors to end the protest but failed. The doctors were not willing to listen to the minister. Speaking through a portable loudspeaker, he explained the district health authority and regional health authority set up to the doctors. However, the protestors continued chanting slogans, forcing the minister to leave.

Later talking to the media, Dr Hisahm said: "our system runs on rumours, I have tried to allay the reservations of the doctors, but as public servants they will have to accept transfer orders."

"As a professional doctor, I assured them that their lawful demands will be addressed while the demands which run against the health system and reform will be rejected. Doctors will have to accept the reforms. We want to address the issues of the common people," the exasperated minister told the media.

Meanwhile, Young Doctors Association Chairman Dr Alamghir Khan said they did not accept the dialogue offer of K-P Health Minister Dr Hiasham Inamullah because they knew that he did not have the authority to make or fulfil and promise or address the demands of the doctors.

"The real power in Heath Department lies with PM Imran Khan's relative Dr Nowsherwan Burki," Dr Alamghir said.

He said that although public healthcare services have been disrupted due to the protest temporarily, it has been staged in the larger interest of the poor people; otherwise they would end up paying high fees even in government hospitals.

He strongly opposed the reforms in public health care demanding government to abolish the district health authorities, which he said would spoil the health system.

The protest continued for two hours. The Doctors Council has made it clear that they would not negotiate with K-P health ministry.

Published in The Express Tribune, April 18th, 2019.