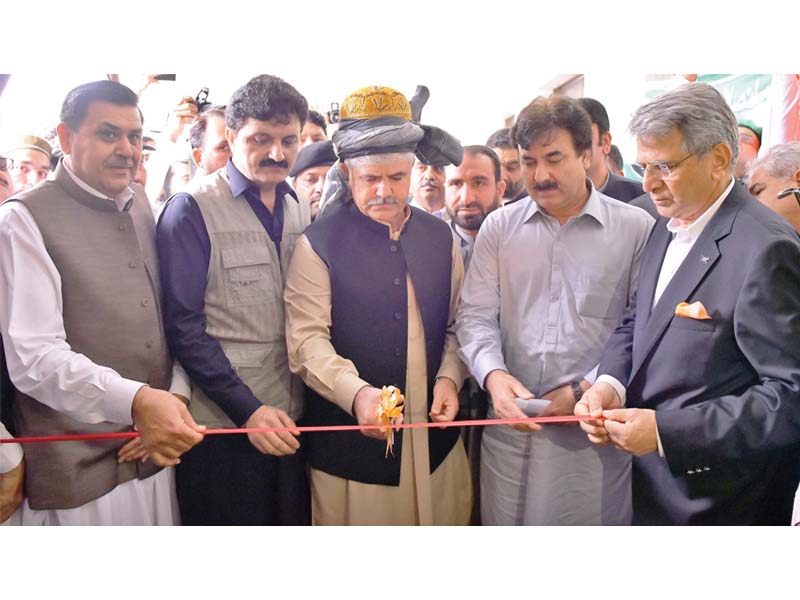 ---
GHALNAI: The provincial cabinet on Monday cleared the draft of Khyber-Pakhtunkhwa Control of Narcotics Substances Bill 2019 which proposes death penalty or life imprisonment for people found possessing more than one kilogramme of methamphetamine, popularly known as ice.

K-P Information Minister Shaukat Ali Yousafzai and CM's Adviser on Merged Districts Ajmal Wazir said this at a press conference in Ghalnai.

It was for the first time that a meeting of the provincial cabinet was held at Ghalanai, the district headquarters of Mohmand. Chief Minister Mahmood cired the meeting attended by provincial ministers and chief secretary and administrative secretaries of various departments.

After the meeting, K-P Information Minister Shaukat Ali Yousafzai and CM's Adviser on Merged Districts Ajmal Wazir told a press conference that K-P Control of Narcotics Substances Bill 2019 proposes severe penalties for those involved in the business, trafficking and use of narcotics with special focus on methamphetamine popularly known by street name of ice.

They said that in order to eliminate the use of ice in educational institutions, the law proposed a penalty of two-year imprisonment and fine or both if ice up to 50 grammes was found in someone's possession, for more than 50 grammes and less than 100 grammes, three-year imprisonment and a fine of Rs500,000 to 100,000, for more than 100 grammes and less than one kilogramme, seven-year imprisonment and a Rs100,000 to Rs300,000 fine.

Similarly, judges could award death sentence or life imprisonment if the accused was found in possession of more than one kilogramme besides fine of Rs0.5 million to Rs1 million.

A special Narcotics Wing will be established in Excise department to implement the law.

Shaukat Yousafzai and Ajmal Wazir further told that the cabinet also approved proposed amendments in the Khyber Pakhtunkhwa Judicial Academy Act 2012 in order to establish endowment fund for the judicial academy.

Meanwhile Chief Minister Mahmood Khan told the cabinet meeting that prior to enforcement of new narcotics law, approved by the cabinet in today's session, awareness campaign should be launched in the print, social and electronic media.

The cabinet was briefed about the pace of progress on the post-merger initiatives viz-a-viz administrative, legal, judicial merger. Basic merger issues almost settled, however, much more needed to be done. Meanwhile addressing a public gathering to inaugurate Insaf Rozgar and Sehat Insaf Card schemes, Mahmood said sincere efforts are being made for initiation of 3G and 4G internet services in newly merged district of Mohmand.

He assured of putting all Mosques of solar powered system and provision of clean drinking water and establishment of university campus for providing students with Higher Education opportunities.

The Insaf Rozgar Scheme will offer interest free loans from Rs50,000 to Rs1 million to educated people ages 18 to 50 years. Technical people will be able to acquire Rs50,000 to Rs0.5 million interest free loan under the sceme, whereas others would get Rs50000 to Rs0.3 million for initiating their businesses.

During his visit, the CM Mahmood also participated in the Spring Sports and Culture Festival where students and youth presented various national songs, traditional folk music and dance along with different sports and acrobatic events.

While addressing the participants of the festival, Chief Minister Mahmood Khan stated that people in erstwhile FATA have suffered greatly due to terrorism and insurgency for the past 15 years and have also been exploited for the past 70 years due to non-availability of proper laws.

Published in The Express Tribune, April 16th, 2019.