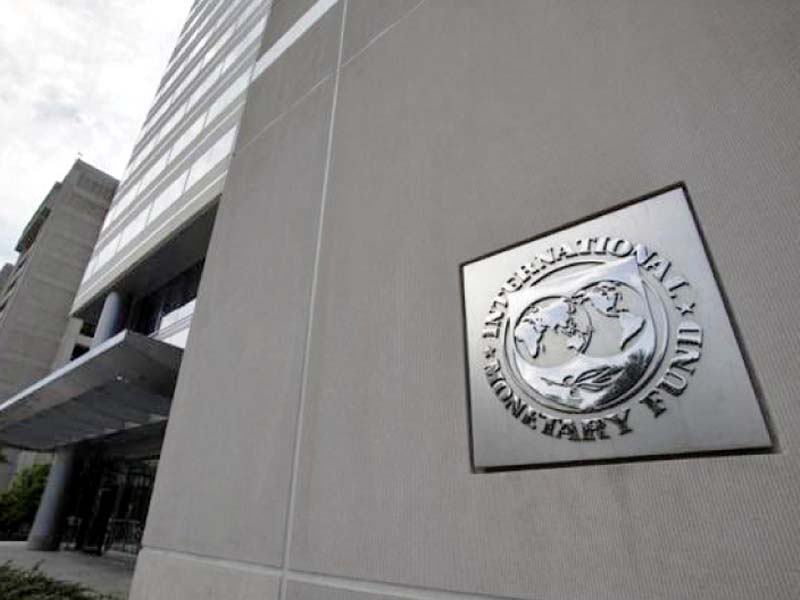 ---
KARACHI: Pakistan's economic growth will not slow down to the International Monetary Fund's (IMF) anticipated level 2.9%, but in fact it is likely to be well above 3.5% during the current fiscal year 2019, PM Economic Advisory Council member told The Express Tribune.

"This is a political statement of IMF," PM Economic Advisory Council's member Dr Ashfaque Hasan Khan said. "The economy will grow between 3.5-4% during the current fiscal year 2019."

Global financial institutions, including IMF, World Bank and the Asian Development Bank (ADB), have forecasted a significant drop in Gross Domestic Product (GDP) growth rate "in coordinated efforts" to pressurise Pakistan to agree on entering the IMF loan programme on stringent conditions.

To recall, the World Bank forecasted 3.4% GDP growth, while ADB assessed it at 3.9% for the current fiscal year to end June 30, 2019.

Khan's assessment for GDP growth matches with the one anticipated by the State Bank of Pakistan (SBP) at 3.5-4% in its latest quarterly report on the state of economy released in end of March 2019.

"I fear the international financial institutions' coordinated efforts may result into downgrading Pakistan credit rating by global rating agencies like S&P," he said. "They are hinting rating agencies…to pressurise Pakistan to accept IMF loan programme on stringent conditions in haste."

Unrealistic revenue collection target

Khan, who is also Principal and Dean, School of Social Sciences & Humanities, National University of Sciences & Technology (NUST), also found the IMF suggested Federal Board of Revenue's (FBR)-revenue collection target of Rs5,400 billion for FY20 unrealistic.

IMF is suggesting a 40% growth in FBR revenue collection for FY20 compared to almost zero growth in the collection in the current FY19 to be ended June 30.

"Such a high growth in collection at times when economy is slowing down is impossible," he said.

If FBR manages to collect Rs3,800-3,850 billion revenue against the set target of Rs4,398 billion for FY19 then "it will be a great achievement", he added.

Considering the FBR would achieve the collection of Rs3,850 billion in FY19 it would be similar to the one at Rs3,842 billion collected in the previous fiscal year 2018; meaning the collection would remain flat, he said.

Disclosure of Chinese loans key hurdle to IMF deal

If Pakistan accepts the IMF suggested FBR revenue collection target then "the government would be presenting the mini-budget in every quarter to overcome the shortcoming. This would end up with an economic disaster," he said.

Stop rate-hikes, devaluation

He advised Prime Minister Imran Khan to stop letting the rupee depreciate against the US dollar and other world major currencies. He also urged to stop raising the key benchmark interest rate, revising power and gas tariffs upwards for end consumers.

"Enough is enough," he said.

A further rate-hike and devaluation may result into standstill of economic activities in the country, as a large number of businessmen are complaining to PM Imran on social media about decline in their business activities.

World Bank president appreciates Pakistan's reform process

He also advised PM Imran to stop harassing businessmen in the name of accountability. "This is hurting businesses."

It seems Pakistan has kick-started an unending accountability process and it is it is growing with every passing day. Earlier, the process was limited to politicians and now it is also hurting businessman.

"I think PM Khan will not forgive anyone who is found involved in corruption," he said. "So I will suggest him to hold meetings with judiciary and National Accountability Bureau (NAB) to quickly conclude the accountability cases, as this is hurting the country and its economy now," he said.

Inflation to ease down

Dr Ashfaque said inflation should ease down from here onward. The rate of inflation would slightly drop for the ongoing month of April considering the five-year high reported rate of inflation at 9.4% for March 2019 was a flawed number.

The Pakistan Bureau of Statistics (PBS) has wrongly calculated gas price hike data in March's inflation number. "1.6% contribution in 9.4% rate of inflation came from wrong gas prices."

Secondly, the base effect is about to come to an end.

Thirdly, a 2.4% contribution in the inflation number has come from a steep 315% increase in tomato prices during the month. "This was a lean season for tomato production in Pakistan, while we also did not import from India due to political tension on the border."

"In April, the tomato price would recover, gas price would also be fixed and that base effect would come to an end," he commented.

Published in The Express Tribune, April 14th, 2019.

Like Business on Facebook, follow @TribuneBiz on Twitter to stay informed and join in the conversation.