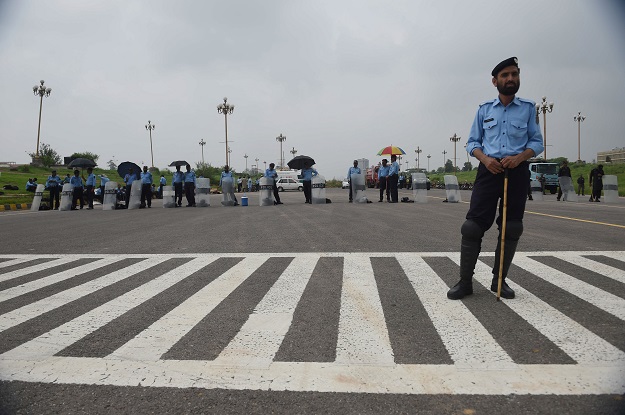 ---
RAWALPINDI/ ISLAMABAD: Federal Health Minister Aamer Mehmood Kiani on Wednesday inaugurated a free screening camp for Hepatitis B, C and tuberculosis at the police headquarters in the federal capital on Wednesday as he vowed to offer free treatment to any infected cops.

Launching the camp, Kiani said that they were aware of the risk posed by hepatitis B, C, tuberculosis (TB), diabetes and hypertension. He added that these and other infectious diseases push the poor further into poverty.

"Pakistan has the second highest disease burden of Hepatitis C in the world. Almost 10 million people are affected by the disease in Pakistan. Inadequately screened blood transfusions; inappropriately sterilized medical, surgical, dental, gynaecological instruments, sharing razors, shaving blades and toothbrushes are the most significant risk factors for the transmission of the Hepatitis C in our country," he said.

Kiani added that the screening process will help in the early detection and quick treatment of the 12,000 police personnel in the city.

"Hepatitis-C is an example where early detection could help in preventing liver cirrhosis, permanent damage and Liver cancer," he said, adding that any patient found to be infected during the screening process will be referred to a gene expert for further tests at the Centre for Infectious Diseases.

"Treatment for Hepatitis-C will be provided at the centre without any cost," he said.

CT scan machine at BBH

The computerised tomography (CT) scan machine at the Benazir Bhutto General Hospital (BBGH) has broken down, creating problems for patients.

The previous government had replaced the machine after the last one broke down. But with this new machine also breaking down, the BBGH administration has written to the health department and asked them to have it repaired on a priority basis.

With the CT scan machine inoperable, the burden of scanning patients has shifted to the District Headquarters and Holy Family Hospitals in the city. Owing to the increased burden, patients have to wait for their turns.

Dengue season in Pindi

With the summer season approaching, government hospitals in Rawalpindi have started to set up special dengue wards to tackle with cases.

The Holy Family Hospital (HFH), which had the largest dengue ward last year but had converted it into a women and children's ward following directives from Prime Minister Imran Khan during a snap visit, is now looking for a new site to set up the ward.

Meanwhile, dengue wards have been set up in BBGH and DHQ. All three hospitals also plan to set up special dengue counters.

Meanwhile, field staff for dengue drive are also surveying high-incidence areas of the city but it is still waiting on the Punjab health department's response on hiring 350 women sanitary patrol workers.

However, Rawalpindi Deputy Commissioner Ali Randhawa has directed the district health authority to utilise the services of 1,382 lady health workers for surveying houses in the meanwhile. He further instructed that no excuse will be accepted by the workers who had stayed away from performing this duty last year.

MS recruitment

The Punjab government has set up an interview committee who will screen candidates for the posts of medical superintendents at six large government-run hospitals in the province, including three hospitals in Rawalpindi.

The interview committee is headed by Provincial Health Minister Yasmin Rashid and comprises the Punjab health secretary, Lahore University of Health Sciences vice chancellor along with two retired professors Dr Gardezi — who replaced Dr.Zafar— and Dr Shaukat as members.

BBH, DHQ and HFH have been functioning without a permanent MS while the officials in these hospitals have been given additional charges.

Former DHQ MS Dr Khalid Mahmood Randhawa, former BBH MS Dr Tariq Masood Niazi, Rawalpindi Institute of Urology and Kidney Transplant MS Dr Nasir Mahmood, Rawalpindi Health Services Director Dr Rafiq Ahmed and Dr Farahana are the candidates who are in line to be interviewed for the posts in Lahore, Wazirabad Institute of Cardiology, Sialkot Allama Iqbal Memorial Hospital as well as hospitals in Sheikhpura and Sahiwal. 

Published in The Express Tribune, April 11th, 2019.