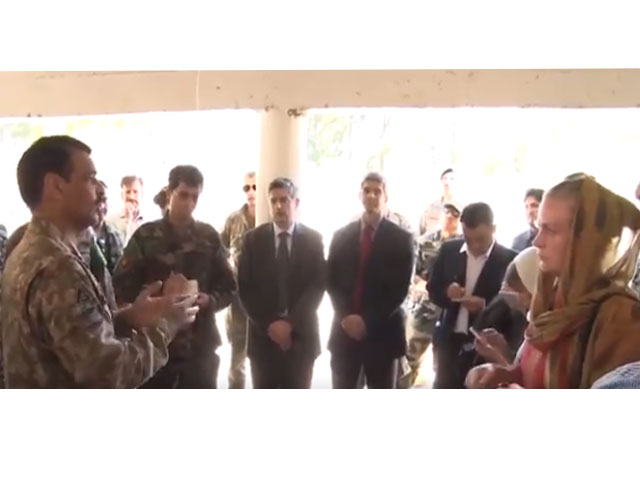 ---
ISLAMABAD: In an effort to further expose Indian lies and fabrications over its February 26 violation of Pakistan airspace, foreign journalists and diplomats were provided rare access to the scene of New Delhi's aerial intrusion near the Balakot district of Khyber Pakhtunkhwa.

The visitors were shown the crater in barren open space, created after an Indian Air Force (IAF) jet dropped its payload while fleeing, and the nearby madrassa New Delhi had claimed it destroyed in the so-called air strike.

"A group of international media journalists mostly India-based and ambassadors and defence attaches of various countries in Pakistan visited the site of 26 February Indian air violation, near Jabba, Balakot," the Inter-Services Public Relations (ISPR) said on Wednesday.


A group of international media journalists mostly India based and Ambassadors & Defence Attachés of various countries in Pakistan visited impact site of 26 February Indian air violation near Jabba, Balakot. Saw the ground realities anti to Indian claims for themselves. pic.twitter.com/XsONflGGVP

— DG ISPR (@OfficialDGISPR) April 10, 2019




Maj-Gen Asif Ghafoor, Director General, ISPR, briefed "the group about details of the event negating repeated false Indian claims with ground realities", it said. "Visitors were shown bomb craters of denied Indian air strike attempt in barren open spaces with no loss to life or infrastructure."

According to the ISPR, the group also visited a nearby madrassa about which India had claimed it had struck and killed scores of terrorists there. The delegation interacted with the children getting education there.

"Visitors freely interacted with students, children and teachers and saw for themselves that madrassa stood on ground untouched with only innocent local children receiving education," Maj-Gen Asif Ghafoor said.

"Instead of pursuing false claims, [India] should accept the reality, stay a responsible state for peace in the region and especially look inward to identify reasons for out of hand situation inside Indian Occupied Jammu & Kashmir," the ISPR chief said.






Later, the group visited the Army Public School (APS) Swat – a state of the art education facility with computer and science labs, auditorium and sports stadium and Sabaoon [morning light] de-radicalisation Centre in Malakand.

The APS is established by the Pakistan Army as a gift to the resilient people of Swat in recognition of their contributions and sacrifices in defeating terrorism as terrorists had especially targeted educational institutions during the unrest.

According to the ISPR, Sabaoon is a rehabilitation facility for psychologically treating indoctrinated juvenile and help them return to normal life and become useful citizens of society.

Tensions flared up between Pakistan India after a suicide bomber killed 40 Indian paramilitary soldiers in Indian-Occupied Kashmir's Pulwama district on February 14. An IAF jet violated Pakistan's air space 12 days later.

Next day, Pakistan Air Force (PAF) shot down two Indian jets in an aerial dogfight and captured an Indian pilot. The pilot was subsequently released as a goodwill gesture. India later claimed that it shot down a Pakistani F-16.




Repetitions don't turn lies into truth: DG ISPR on IAF presser

However, all the Indian claims were proved wrong. International media had immediately refuted New Delhi's claim of hitting the madrassa. Last week, a prestigious US-based magazine, Foreign Policy said that US officials have confirmed that all the Pakistani F-16 jets are accounted for.

According to BBC Urdu, the group was flown from Islamabad in a helicopter to Jabba in Balakot. The visitors then trekked for about one-and-a-half hour to reach the madrassa on the top of a mountain surrounded by lush green trees.

The group, while going up, also saw a crater on a hillside where Indian jets had dropped its payload. About 150 students, aged 12-13, were present inside the seminary building and were being taught Quran when the group reached inside the madrassa, the report said.

"This is an old madrassa and has always been like this," BBC Urdu quoted Maj-Gen Asif Ghafoor as saying, while interacting with the journalists, most of them from India. "You can see for yourself, there is no truth in India's claims."

This was the first formal visit to the area by foreign media—mostly from India – and Pakistan-based diplomats. The trip fortified Pakistan's firm stance that India failed to destroy any structure or kill anyone on February 26 and belied the jingoistic propaganda unleashed by the Indian media.

Photos provided by ISPR